Conferences
It is the goal of the PGA of Alberta along with the Education Committee to support our Members with continued educational initiatives to assist them with the provision of superior instruction, club management and promotion of the game to ensure the most relevant Industry information is available to them at all times.
The PGA of Alberta is dedicated to providing Candidates for Membership and Class A Members with opportunities to better themselves as golf professionals. As a Member, you have access to a tremendous body of world class education through our Professional Development Series, Spring Seminar, and Buying Show Education Series.
The 2019 Spring Seminar presented by E-Z-GO & SuperSpeed Golf will be held March 4th & 5th at the Carriage House Inn in Calgary. The Education Committee has diligently worked through the proposals sent and received from various speakers on relevant industry topics and are pleased with this year's potential line-up. Mark these dates in your calendar now, we hope you plan on attending this annual kick-off to the golf season!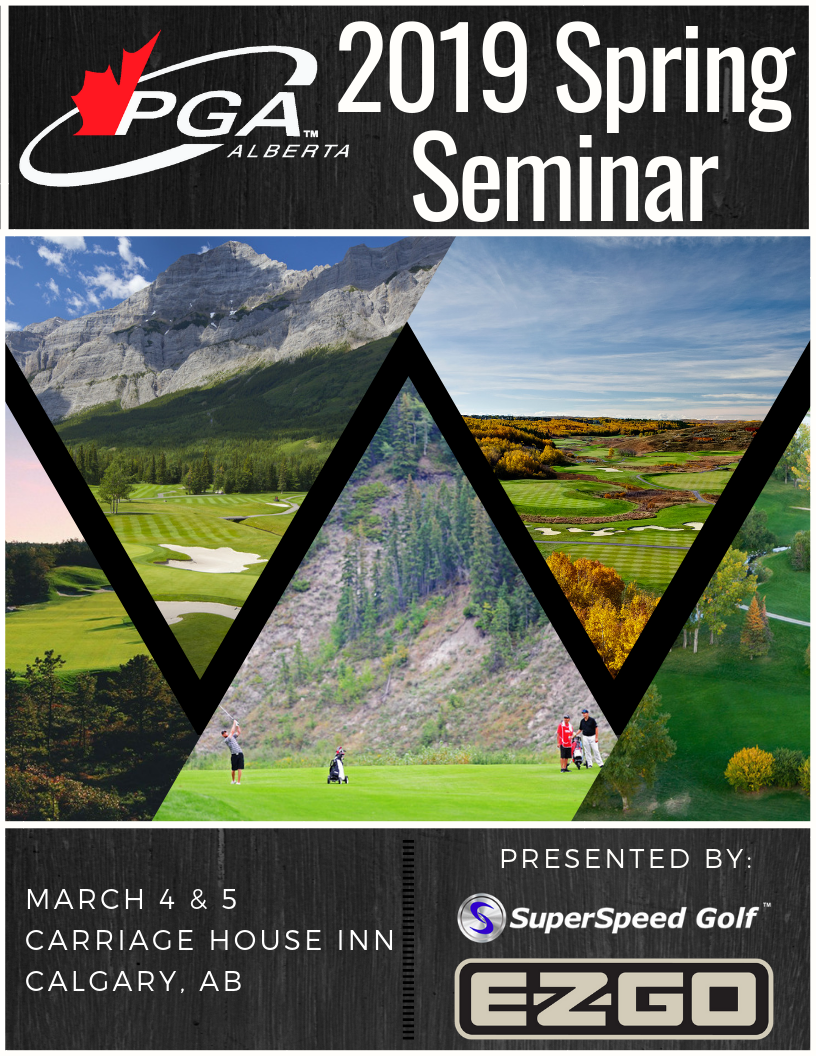 Click here for the 2019 Spring Seminar Information Package
---
Confirmed Speakers 2019
Theoren Fleury - NHL Hockey Great & Inspirational Speaker
David Orr - PGA Tour Coach & World-Renowned Putting Specialist
Will Robins - Chief Executive Officer, RGX Coaching System
Dr. Stephen Norris - Performance Conversationalist to Sport and Business
Kevin Thistle - Chief Executive Officer, PGA of Canada
Matt Allen - Chief Innovation Officer, PGA of Canada
James Beebe - Golf Course Superintendent, Priddis Greens G&CC
George Pinches - Director, Global Golf Advisors
Tom Zariski - Level 4 Rules Official
Ryan Robillard - Canadian Sales Manager, SuperSpeed Golf
Kevin Labbé - Owner, Pixel Army - Strategic Website Design
Click here for more information on speakers and topics
---
Cocktail Reception on Monday March 4th @ Schanks Sports Bar presented by:
---
To book your room at the Carriage House Inn, Call 403-253-1101 and reference 'PGA of Alberta' for preferred rates.
---
The Professional Development Series have been designed by the PGA of Alberta Education Committee to assist Members in all Membership categories gain the knowledge they need to perform their duties at the Golf Club.
This year's Series topics have been pinpointed by the Education Committee as skills that are necessary in order to lead any Golf Professional down a path of success in the industry, no matter what your career aspirations – Teacher, Head Professional, General Manager, etc. Candidates for Membership can gain useful knowledge which may be applied when completing industry based Core Competency Golf Modules.

See below and stay tuned for more updates on Events and Topics for 2019!
---
2019 Calgary Teaching Summit:

An Evening With David Orr
Monday March 4th, 2019
5pm @ Earl Grey Golf Club
The PGA of Alberta's Education Committee is proud to present the 2019 Calgary Teaching Summit, hosted at Earl Grey Golf Club. The Summit will give a select group of PGA of Alberta members the chance to have a 1 on 1 session or observe these interactive sessions with PGA Tour coach and world renowned putting specialist David Orr. This will take place immediately following Day 1 of the 2019 Spring Seminar.
During the 4 hours of instruction, those who register for a 1 on 1 session will take a 50 minute lesson to work on their own game as well as develop their coaching skills by observing the other participants taking their lessons. There will be endless opportunities for questions and discussions throughout the sessions with David. Those who register to observe will have access to all 4 sessions with the same abilities to discuss with David Orr and your peers.
Option #1 - $250+GST
Option #2 - $100+GST

1 on 1 session with David Orr (50min) in the Golf Lab

Access to all other sessions to observe and discuss

(Maximum 4 sessions available)

Access to all sessions to observe and discuss with David and peers

(Maximum 6 observers)
**Registration for the 2019 Spring Seminar is required to attend the Calgary Teaching Summit**
Information for the 2019 Buying Show Education Series coming soon!
See below for the Education Series from 2018:
---
Webinar: It's Showtime - Planning for the Buy

Building off her 2018 Spring Seminar presentations, Tracy Moffat, President, Association of Golf Merchandisers will conduct a Webinar session on October 16th, 2018 to help you develop a buying plan for the Show. During this hands, on two-way interactive Webinar, Tracy will look at key numbers you need to review and forecast for next year and then take those numbers and develop a simple buying plan for the upcoming season. Additionally, vendor analysis and planning for the upcoming season will also be discussed.
Join your golf industry peers for this one-of-a-kind Webinar that will enrich your 2018 Buying Show experience. Please note, this workshop is designed for anyone at your facility involved with the Buying Show process, including, General Managers, Head Professionals, Teaching Professionals and Assistant Professionals.
---
Impact Tournament Systems - Enhance Your Tournament Experience
Join Impact founders Brian Haydamack, Scott Hrehirchuck and Chantel Wons as they will be hosting an Impact Tournament Systems Software Tutorial at the 2018 Buying Show to help refine your Impact skills. On October 17th, 2018 they will run through the top 5 tools in impact you might not be aware of, the top 5 features most courses are not utilizing in Impact followed by a Questions and Answers period allowing you to address any questions or concerns you may have in using the Impact software.
---
2019 Golf Rule Changes - Everything you need to know
Join current rules official Leigh Cormack as he hosts a 2018 Buying Show workshop on all of the key rule changes being implemented in the 2019 season. On October 18th, 2018 Leigh will address all of the major rule changes using key concepts, procedures and outcomes that are more intuitive and easier to learn. The purpose of this is to make the rules of golf more easily understood for all golfers.
---
Click here for the full Buying Show Education Series Information Package