Brady Karlson
| | |
| --- | --- |
| Current Golf Facility: | Canyon Meadows G&CC |
| Member Classification: | Class A Professional |
| Education Background: | University of Lethbridge |
| Social Media: | |
PROfile
Born and raised in Saskatchewan, I moved to Cochrane, Alberta when I was 9 years old. That same year, I became part of the local 9 hole golf course and began to participate heavily in the junior program, I truly never looked back. Once I graduated High School I instantly took a job in the golf industry. After some thought, I decided to go to Lethbridge College for the Professional Golf Management program. There, my knowledge of the game took to new heights when I was able to not only work on my game and teaching abilities, but work on them with other talented players, coaches and teachers along the way. My most proud accomplishment out of Lethbridge College would certainly be competing with the golf team and qualifying for Nationals in PEI.
After two years at Lethbridge College I chose to switch education paths and attend the University in Lethbridge. There, I was able to successfully complete a Bachelor's Degree in Management. While at the University of Lethbridge I was also able to compete on the golf team for 3 years. Getting to see the competitive side of golf at both schools certainly taught me a lot about the game. Since joining the PGA of Canada in 2013 I have met a ton of great people and have created some great memories within the golf industry. I am a very proud member PGA of Canada and I could not be more excited to leave my mark on the game of golf.
Q. What do you enjoy most about the game and the business of golf?
I enjoy the fact that I can talk about the game and learn more about it everyday as my job and not just a hobby
Q. What or who influenced you in becoming a Golf Professional?
My Parents had a huge impact on me as a golfer and as a person. Golf taught me alot when I was younger and still does every year
Q. What would you be doing if you weren't a Golf Professional?
Sales of some kind, I enjoy situations where I can feed off of other people
Q. What is your favourite golf course in the world?
Carnoustie Golf Links, Scotland
Q. Who is your favourite PGA Tour player?
Rory McLroy
Q. What is the first club you take out of your bag on the driving range?
4 iron
Q. What is the most number of holes of golf you have played in one day?
45
Q. What is your career low round and where did you shoot this score?
65 , Canyon Meadows Golf & Country Club
Q. What significant accomplishments are you most proud of?
Graduating University and getting my pro card on my first attempt
Q. What other interests, hobbies and passions can you share?
I am obsessed with the world of professional sports on social media. I am always reading articles, checking scores and news on almost every sport out there.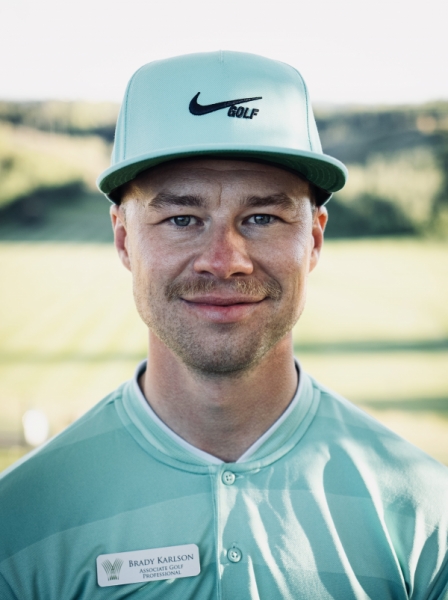 ---