Cole Dunphy
| | |
| --- | --- |
| Current Golf Facility: | Royal Mayfair GC |
| Member Classification: | Apprentice Professional |
| Education Background: | Golf Enterprise Management |
| Email Address: | [email protected] |
| Phone Number: | 250-341-5541 |
| Social Media: | |
PROfile
I was born and raised just outside of Fort Saskatchewan. Which is about 30 mins NE of Edmonton. I have been working in the golf industry since I was about 13 years old. Worked 4 summers at Fort-In-View Golf Course as a back shop employee. Following that I worked a summer at Goose Hummock Golf Course as a back shop employee. Moving from there I got my first internship which was 4 months in Minneapolis, Minnesota at The Minikhada Club . I then found myself going to the West Coast on another 6 month internship through school at the Bandon Dunes Golf Resort in Bandon, Oregon. Once, graduated from college I moved to Invermere, British Columbia and worked as a shop employee for a full summer at Grey Wolf Golf Course and Panorma Mountain Resort. Finally, we come to wear I am currently, The Royal Mayfair Golf Club, in Edmonton, Alberta. I spent the 2020/2021 season here and will be here for the 2021/2022 season.
Q. What do you enjoy most about the game and the business of golf?
What I enjoy most about the game is playing with family and friends. Along with introducing new players to the game I love. Creating new relationships with people from all walks of life. Finally, the purity of the game and the trust and honesty you must have for the game and your fellow players.
Q. What or who influenced you in becoming a Golf Professional?
My love for the game is the leading influence that brought me to wanting to become a Golf Professional. Secondly, going to college in Wisconsin on a hockey scholarship it was an unknown what to take for a degree. Thankfully, my school had a Hospitality Program with a focus in Golf Enterprise Management.
Q. What would you be doing if you weren't a Golf Professional?
If I wasn't a Golf Professional I would be striving to become a City of Edmonton Fire Fighter. Being able to help people in need and creating relationships has always something that I have enjoyed.
Q. What is your favourite golf course in the world?
St. Andrews Old Course.
Q. Who is your favourite PGA Tour player?
Brooks Koepka
Q. What is the first club you take out of your bag on the driving range?
56 degree
Q. What is the most number of holes of golf you have played in one day?
72
Q. What is your career low round and where did you shoot this score?
69 at the Bandon Dunes Golf Resort (Old Macdonald Course)
Q. What significant accomplishments are you most proud of?
Most significant in my life so far would be graduating from college and passing my PAT.
Q. What other interests, hobbies and passions can you share?
Other interests and passions that I have is currently helping with a hockey skills and development program. Training jiu jitsu during my time off. Finally, love to go fishing.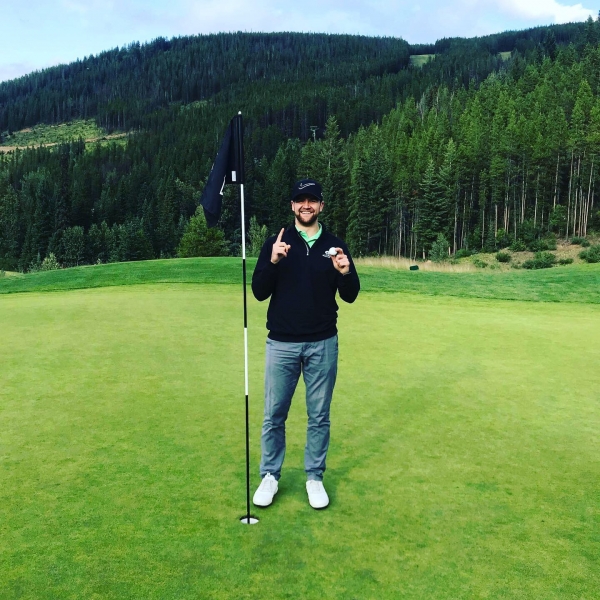 ---