PGA of Alberta Building
Background
The Professional Golfers' Association of Alberta was formed in 1964 to support the growing needs of Golf Professionals residing and working throughout the province. The Association's mandate has always been to complement the programs and services offered to Canada's Golf Professionals by the Canadian Professional Golfers' Association which was established in 1911. The programs and services offered by the Provincial Association have always been well supported by the Membership as there has always been great value to the Members with each initiative. In 1986, the concept of the Association working toward building an asset base in order to establish long term stability was first introduced by the Board of Directors. This asset base included plans for a building and along the way required the Association to incorporate as a not for profit corporation in order to put itself in a position to hold title on property.

Seventeen Past Presidents were on hand during the Opening Day Ceremony held July 10, 2012
Association & Member Benefits
The benefits to the Association extend beyond the financial stability that will be provided as a result of Members investing into a long term asset. Although controlling our annual operating costs serves as the primary reason for having established a building fund, the opportunity for the Association to promote its Members both past and present as well as preserve the Association's heritage are residual benefits to owning a building. This initiative establishes the Association's place as an operating concern in the Province of Alberta since 1964, lending greater credibility to the Association and gaining continued support for our Members by the business communities in which we serve. These residual benefits will be enhanced during occasional visits to the office by Association Members, future Members, guests and potential partners. All Association Committee Meetings and Board of Directors' Meetings could also be held onsite and this should be encouraged as much as feasibly possible.
Long Range Plans
Long range plans for the Association have included discussions on conference centres, teaching centres, educational settings as well as driving ranges and golf courses. We must first walk before we run and at this juncture an asset to be used for our Association's administration is the best use of the restricted funds we currently have available to us.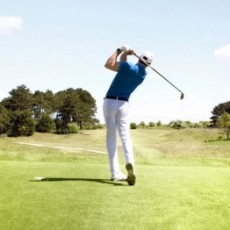 172 Members and Partners contributed in excess of $80,000 during building construction!
PGA of Alberta Building Donor List
The Professional Golfers' Association of Alberta wishes to extend its gratitude to the following Members, Partners and Golf Courses for their generous contributions towards our New Building.
Over $80,000 was raised during a twelve month campaign from within the Membership and from contributing partners. These contributions have provided us with the opportunity to upgrade the following areas within the building: Library & Seating Area, Board Room, Cabinets & Displays, Photos & Memorabilia
Thanks to the following 188 PGA of Alberta Members and Partners, a total of $80,546.03 was raised!
4th Spot
Adam Werbicki
Al Ewen
Alan Carter
Alan Riley
Ambersdad Signs
Art New
Banff Springs GC
Bill Carrington
Bill Forshner
Bill Penny
Bill Quilley
Blair Felesky
Blair McDowell
Bob Martens
Bob Paley
Brett Burgeson
Brian Bassen
Brian Bygrave
Bruce McBean
Bruce Stuart
Bryan Copp
Bud Loftus
Burt Drysdale
Buzz Wilson
Calgary Elks Lodge GC
Calgary G&CC
Callaway Golf
Cam Driscoll
Carstairs GC
Caulfeild Apparel
Clayton Robb
Clive Grant
Cobra Puma Golf
Cottonwood G&CC
Country Hills GC
Criterion Group
Cyril Zupan
Dale Tomlinson
Dan Cameron
Dan Warwaruk
D'Arcy Ranch GC
Darrell McDonald
Darren Cooke
Dave Clark
Dave Drake
Dave Mayes
Dave Wilson
David Robert
Dean Ingalls
Dean Sklarenko
Dean Spriddle
Dean Walker
Derek Gibson
Don McFarlane
Don Price
Doug Lecuyer
Doug Spark
Dr. Frank Sutton
Earl Grey GC
Edmonton CC
Fletcher Leisure Group
Frank Fowler
G&G Golf Company
Garry Meyer
Gary Ward
Gerry Collett
GES Canada
Glencoe G&CC
Glenn Carr
Gord Courage
Graeme Kreiner
Graniteworx
Grant Cammidge
Grant Cook
Greg Griffith
Greg McGarry
Greg Pidlaski
Gregg Schubert
Heritage Pointe GC
Inglewood G&CC
Iron Eagle
J.D. Scheller
Jason Stanier
Jasper Park Lodge GC
Jay Barrett
Jay Wilson
Jeff Cuthbertson
Jeremy Tanner
Jerry Linquist
Jim Fraser
Jim Jempson
Jim Thorogood
John Coulter
John Wilson
Josh Gardner
Judy Forshner
Ken Arkley
Ken Frame
Ken Matson
Ken Stasiewich
Kevin Snell
Kim Carrington
Kim Wilkowich
Kyle Pardy
Lino Toppazzini
Lloyd McBean
Maple Leaf Junior Tour
Marc Emslie
Mark Beckwith
Matt Barkway
McKenzie Meadows GC
Melcor Developments
Michael & Cade Gawryluk
Mike Hogan
Mike Kenney
Mike Loftus
Miskanaw GC
Morgex
Murray McCourt
Neal Connell
Patricia Cooke
Patrick Coli
Paul Horton
Paul Lowe
Phil Berube
Pierre Beauchemin
Ping Canada
R.E. Courage Foundation
Ray Milne
Red Deer G&CC
Rene Desmarais
Richard Stringer
Rob MacGregor
Rob Matsuoka
Rob Rusznak
Robert Lean
Ron Laugher
Ron MacLeod
Ryan Doucette
Safeway
Scott Allred
Scott Orban
Scott Reid
Scott Westman
Shannon Werbicki
Shawn Lavoie
Sheryle Rowland
Sitewyze Solutions
Slade King
Stampede Messenger
Stan Ostapczuk
Steve Moe
Stuart Williamson
Sturgeon Valley G&CC
TaylorMade adidas Canada
Terry Carter
The Ranch G&CC
Tiffany Gordon
Tim Watt
Titleist & Footjoy
Tom Alford
Tom Greiner
Tracy Maxwell
Trail Appliances
Trevor Copp
Trevor Ellerman
Trevor Goplin
Troy Prusky
Unicom Graphics
Wayne Bygrave
Wayne Fairbairn
Wayne Whitlock
Wellsite Environmental
Wib Lamb
Willow Park G&CC