Education
It is the goal of the PGA of Alberta along with the Education Committee to support our Members with continued educational initiatives to assist them with the provision of superior instruction, club management and promotion of the game to ensure the most relevant Industry information is available to them at all times.
The PGA of Alberta is dedicated to providing Apprentice Professionals and Class A Members with opportunities to better themselves as golf professionals. As a Member, you have access to a tremendous body of world class education through our Professional Development Series, Spring Seminar, and Buying Show Education Series.

The 2023 Spring Seminar has been scheduled for March 6th & 7th at the Derrick G&WC.
Early bird registration is now open until February 17th, 2023.
The first announcement of speakers are;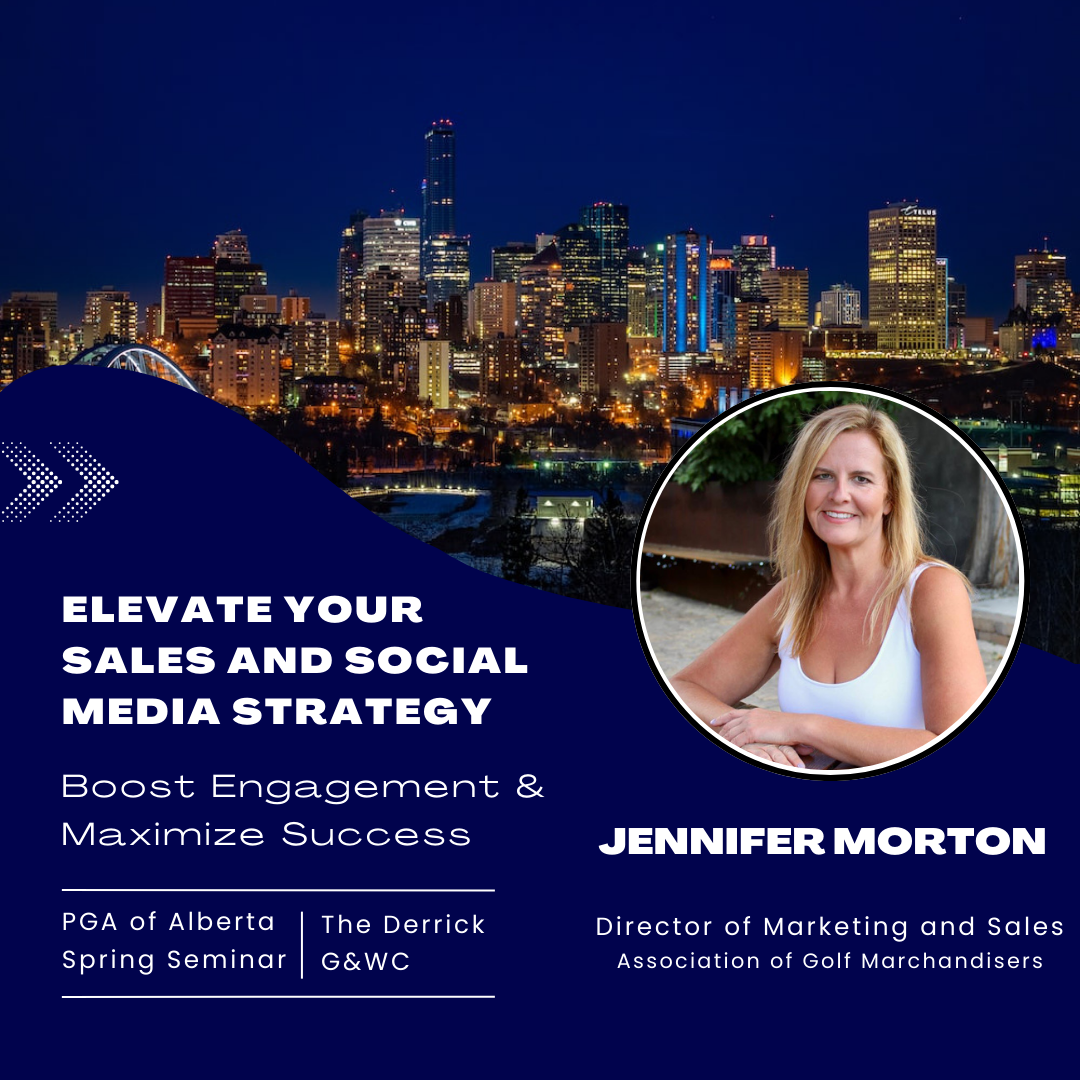 Jennifer Morton, Director of Marketing and Sales for the Association of Golf Merchandisers (AGM), business strategist, and international speaker has more than 30 years of marketing and golf retail experience. She has done presentations for the BPG Buying Show, Tee Talks in Vancouver and will speak at the upcoming PGA Show in Orlando.
---
There is also an exciting, new opportunity for every member of the association to apply to be a presenter at this years Seminar.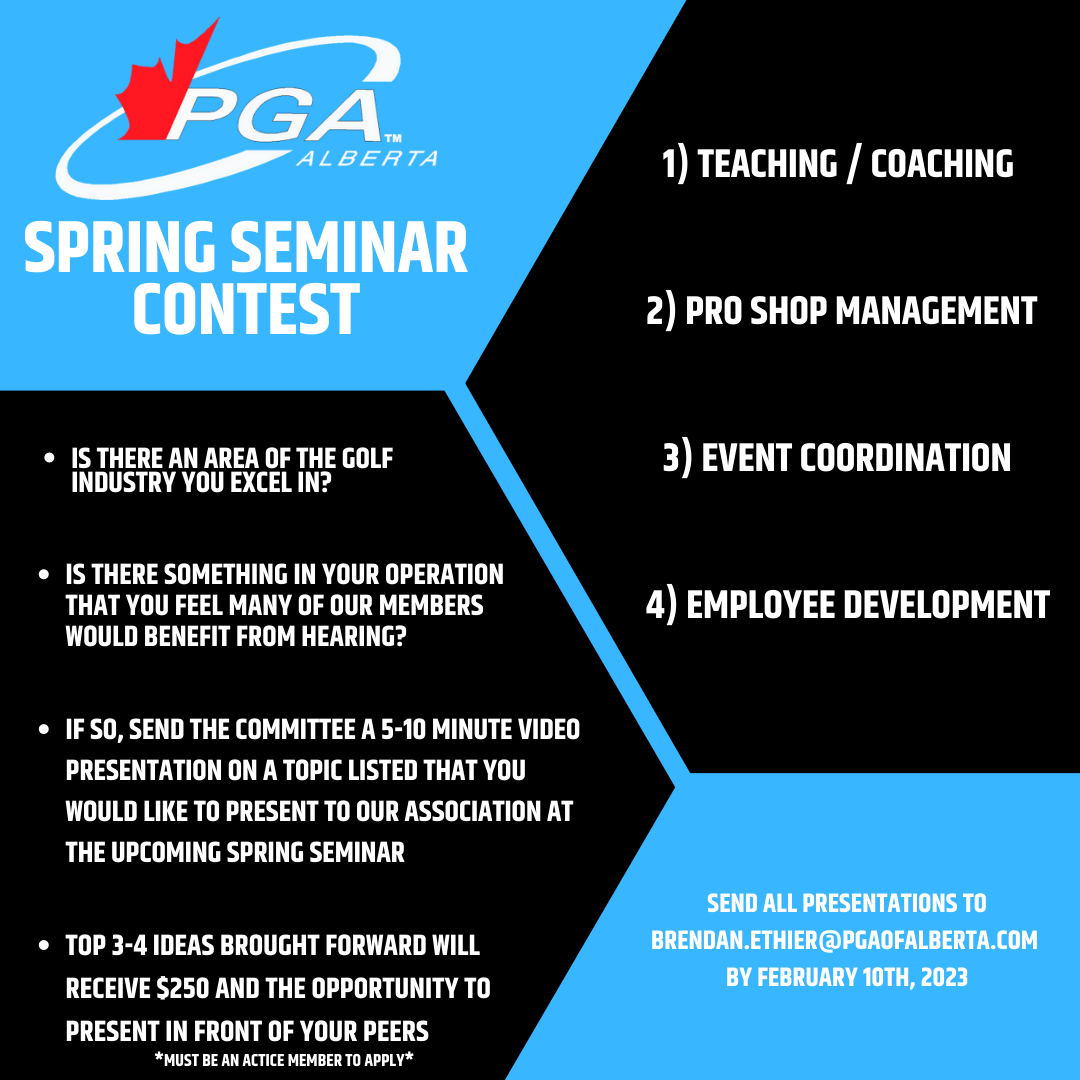 Please contact [email protected] with questions/comments and concerns regarding the event

Top 100 Points - Every Member that attends the Spring Seminar will receive 5 Top 100 points per day (10 points total) for this program year.
Spring Seminar Sponsors...
This webinar will cover details and questions about the "PGA of Canada Training Academy"
The panelists will include;
Tiffany Gordon (Carnmoney GC and PGA of Canada)
Michael Nutt (Kananaskis Country GC)
Robbie Johnson (Banff Springs GC)
This will be the second of four webinars produced by the assistants board with the intention of providing professional development for all assistants within the industry. This will produce an avenue for networking and relationship building so members can continue to further their careers.
| | | | |
| --- | --- | --- | --- |
| Date | Time | Location | Capacity |
| January 31th, 2023 | 10:00am-11:15am | Zoom Conference Call | Unlimited |
*Reminder this is free to all members and each participant will receive 2 Top 100 Points/ Webinar*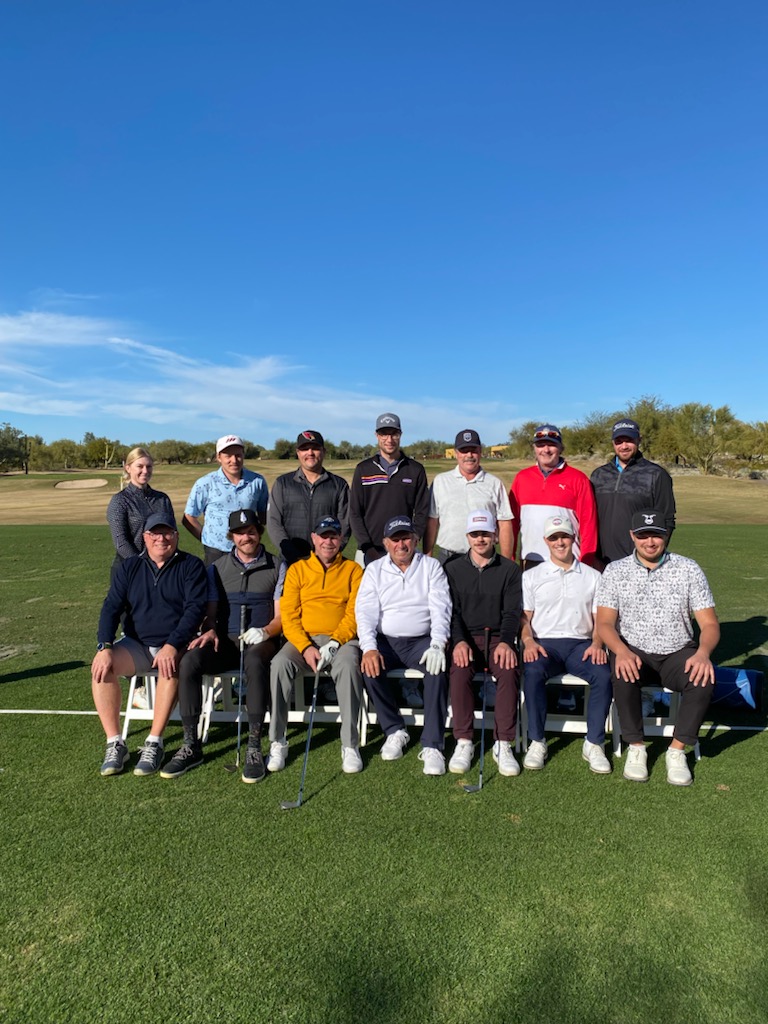 PGA of Alberta pro's were greeted with three beautiful days at Grayhawk GC for the 2022 Arizona Teaching Summit. Peter and John Kostis were fantastic, covering all areas of full swing, short game and how to improve your overall coaching. They were also able to enjoy a casual round of golf followed by a group BBQ hosted by Paul Horton.
The 2023 summits will aim to be in the Red Deer area towards the middle of June, along with going back to Arizona close to the Head Professional Championship of Canada.
The Education Committee has confirmed three sessions this year, presented by TaylorMade Golf Canada, with the return of the Buying Show. They will be hosted in Arabian Room B, see the details for each session below;
October 18th, 12:00-1:00PM
Retail Q&A with Bob Paley (Kananaskis Country GC)
Bob will holding an open Q&A on day one to help everyone make the most out of the show. Troy Mills (Jasper Park Lodge GC) will be moderating and starting off the session with some of the most frequently asked questions about the retail side of the business. All attendees are welcomed to bring their own questions which Bob will answer on the spot.
---
October 19th, 2:00-3:00PM
Junior Programming Panel
Chris Paskin (Valley Ridge GC) will be moderating a panel of Alberta's top Junior leaders and Instructors. The panelists will be discussing their different approaches when coaching juniors as well as how they have all built successful junior programs. The panel will consist of;
Stephen Yanitski (Valley Ridge GC)
Lyndon King (Collicutt Siding GC)
Adam Werbicki ( The Derrick G&WC)
---
October 20th, 12:00-1:00PM
Winter Programming and Building a Book of Business with Josh Fleming (365 GOLF)
If you want to succeed as a year-round Instructor and Coach this session is for you. With 7 years of experience at GOLFTEC and now having successfully opened his own instruction and coaching business, 365 GOLF, Josh is excited to share with you his thoughts on winter programming and building a book of business. There are some key components that are needed to succeed as a year-round Coach and Josh will share some of those with you. He will speak for 30-45 minutes and spend the remainder of the time fielding questions from the audience. Todd Halpen (Golfutre YYC) will kick off the Q&A with some thought provoking questions.
Top 100 Points: Attendees will receive 3 points/session