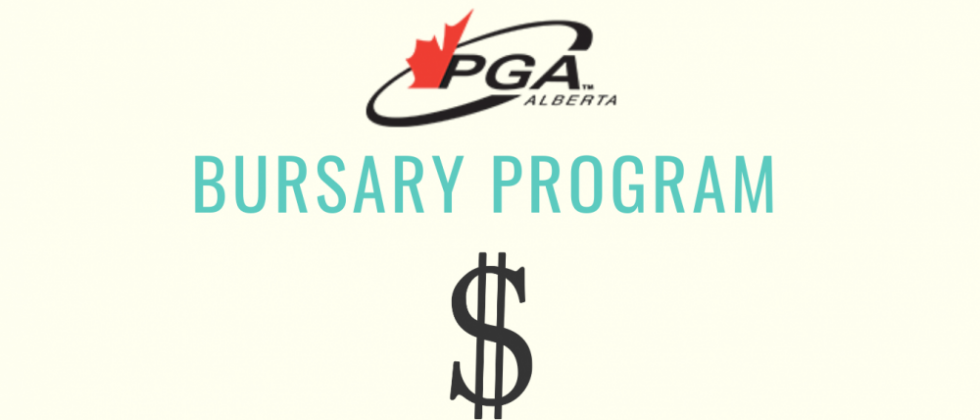 Association News
3 Weeks Left to Apply for a $750 Bursary
The PGA of Alberta is proud to present a total of four (4) cash bursaries of $750 each to deserving Apprentice and Class A Assistant/Teaching Professionals who meet or exceed the bursary criteria as outlined on the website.

All Apprentice and Class A Professionals (who are not employed as Head/Executive Professionals) in good standing are eligible and encouraged to apply. Two of the bursaries will be reserved for seasonal Apprentice Professionals (working 9-months or less for their employer).

Winners of the bursaries will be announced at the annual Awards Banquet after the second day of the Buying Show on Wednesday, October 20th. Click here to register you and your facility for the Buying Show if you have not done so already.

Bursary Criteria
Participation in Association & Industry Events
Volunteer Experience
Education
Work Experience & Responsibilities
Reference Letter from employer
Declaration
*Save Draft Feature*
You can now save your applications online before submitting! This feature on the website allows you to take your time with your application by being able to save your progress before submitting. Please follow the steps below to save your progress and revisit your saved application:
You must be logged into your account to be able to save your draft.

The "Save Draft" button is located at the bottom of every form on the website.
Click the "Save Draft" button if you would like to save your progress and go back to the application at a later time.
To find your Saved Drafts, go to "My Account" or "Manage Account" after logging in to the website and select "My Saved Drafts".
Once the application is complete, click "Submit Form" at the bottom of the application page.
Deadline
Bursary application and accompanying information must be submitted online no later than September 29th, 2021 by 4pm.

If you have any questions, please contact Marlene Sanderson at the PGA office 403-256-8894 or by email [email protected]