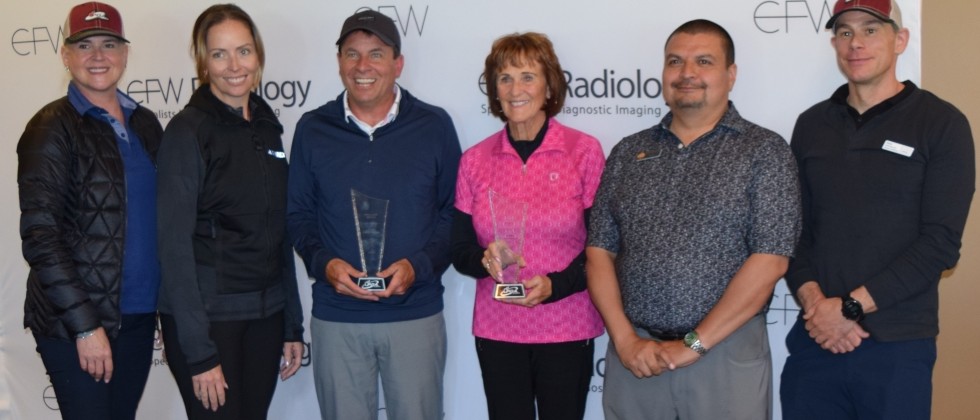 Tournament News
McCluskey and Prior Take Home EFW Radiology - adidas Golf Pro-Lady South Title
Today saw the second Pro-Am of the season hosted at the beautiful Highwood Golf, sponsored by adidas Golf & EFW Radiology and presented by Jancor Agencies. The course was in fantastic shape and the Leaderboard saw a tight battle at the top for the title. This year's event continued with the Team Net Stableford scoring format which kept things fun and exciting for the competition.

Our Champions this year are: Phil McCluskey (River Bend G&RA) and his partner Linda Prior, who fired a superb round today to finish with 46 Net Stableford team points to win by 1! Phil carded a 2-under 70 with a 35 on the front-9 which was followed up with another 35 on the back-9. Phil carded 1 Eagle and 5 Birdies today. His partner Linda Prior, played fantastic, with 4 total Birdies today, 3 being net birdies and the other a Birdie 2 on #3 on their march to victory.

In Solo Second Place, was the team of: Scott Smith (Dynamic Motion Golf Performance Centre) and Jaime Wong who accumulated a stellar 45 points today.

Finishing in Third through retrogression, at 42 points was the team of: Tyler Lebouthillier (GOLFTEC Calgary Beacon Heights) and Wendy Ellacott.
In Fourth, also through retrogression and finishing with 42 points was the team of: Scott Stiles (Earl Grey GC) and Brynne Davies.
Rounding out our Top-5, in Fifth finishing with 41 points was the team of: Kevin Graf (Woodside GC) and Patti Reid.
Special thanks to our host course of Highwood Golf, for putting on such a top-notch event and to our Sponsors adidas Golf & EFW Radiology and presenting Sponsor Jancor Agencies. Without their continued support events like these would not be possible!