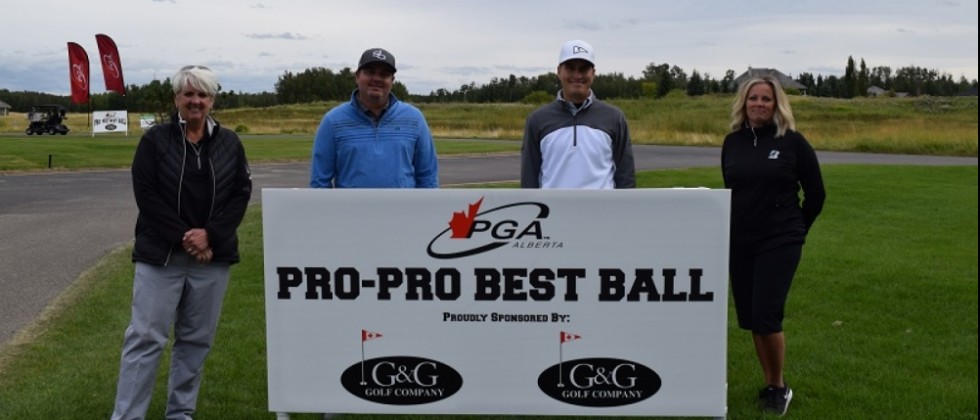 Association News
Fox & Manz Dominate at the Pro-Pro Best Ball
Players today put on a show resulting in some fantastic scores at Northern Bear GC for the annual Pro-Pro Best Ball sponsored by longtime partner G&G Golf Company.
Shooting a remarkable 10-under 62 in the team best ball format, our champions in the Overall Division this year are Jacob Manz and Mitchell Fox of Speargrass GC. The team made a statement early going 7-under after the first seven holes to quickly move to the top of the leaderboard. They continued their solid play for the rest of the round adding 3 more birdies and playing bogey free golf to win by 2 strokes over the defending champions. With the win, Mitchell Fox adds another trophy to his mantle after winning a 1-day event at the Edmonton Garrison Memorial G&CC earlier this month.

Winners of the Ladies' Division this year was the team of Marsha Rogers (Derrick G&WC) & Shannon Werbicki (Royal Mayfair GC) after shooting a stellar 1-over 73 to easily win by 4 strokes over their nearest competitors (picture below).
Falling just short of going back-to-back at the Pro-Pro Best Ball was the team of Spencer (Edmonton Petroleum G&CC) and Nick Vandermey (Windermere G&CC). The team ended up in second place after their solid play on the course which included 9 birdies to finish at 8-under 64.
In a 4-way tie for third place finishing at 7-under 65 for the round was the teams of Kurtis Foote and Richard Stringer (Country Hills GC), Kent Fukushima (Redwood Meadows G&CC) and Dustin Risdon (Dustin Risdon School of Golf), Cullen Wanvig (The Winston GC) and Riley Fleming (Lynx Ridge GC), & Randy Robb (Edge Golf Academy) and Scott Stiles (Earl Grey GC).
Thank you to our host venue Northern Bear GC for an excellent event and making everyone feel welcome. We will see players next at Jasper Park Lodge GC for the annual Pro-Assistant.