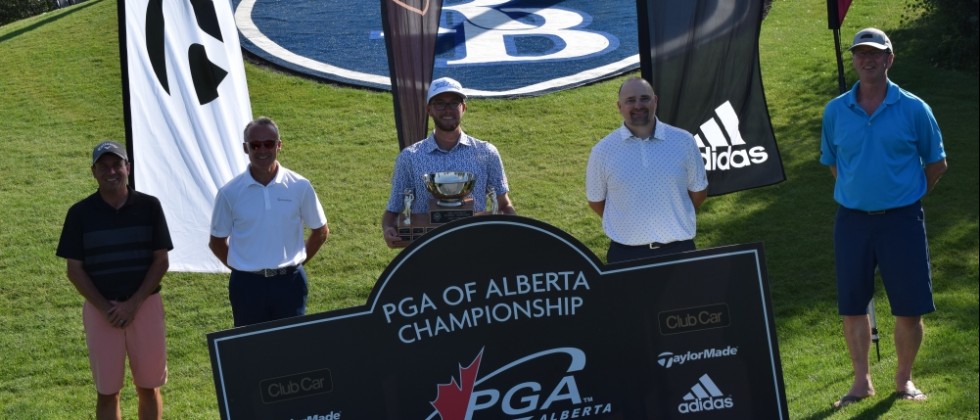 Tournament News
Riley Reclaims the PGA of Alberta Championship
Today at round two of the PGA of Alberta Championship sponsored by Club Car, TaylorMade Golf & adidas golf and hosted at the tranquil & serene River Bend G&RA saw a continuation of the heat & stellar playing conditions for our competitors. The competitors continued with posting some stellar rounds' on the course today which made for an extremely exciting and can't-look-away day of watching the leaderboard & the players coming in on the 18th.

Our Champion this year is none other than Riley Fleming of Lynx Ridge GC who carded an absolutely scorching round of 7-under par 65 to take back the hardware from Wes Heffernan (Dynamic Motion Golf Performance Centre) after relinquishing the title last year. Riley played almost blemish free golf today and throughout the Championship with only one bogey in total and managed to pour in an unbelievable 8 birdies to win the Championship by 2 strokes. Riley finished the Championship with a two day total of 11-under and overall two-day score of 133.

Three other competitors finished tied for 2nd place today and were neck in neck with Riley throughout the day. Dustin Risdon (Dustin Risdon School of Golf), Jeremy Maher (Modern Golf) & last year's Champion Wes Heffernan all carded stellar 9-under par two day totals and overall score of 135.

Rounding out our top 5 was Scott Stiles (Earl Grey GC) who carded an awesome 6-under par 66 today and finished with an overall two-day score of 136 (8-under). In sole possession of 6th was Todd Halpen (Golfuture) who played an incredible front-9 today carding a 6-under 30 but was unable to maintain his torrid pace on the back-9. Todd still carded a 66 and finished with an overall two-day score of 137 (7-under).

In a two-way tie for 7th was Adam Bruce (Glendale G&CC) & Mike Belbin (Royal Mayfair GC) who both had two solid rounds respectively to finish at 6-under par and with two-day totals of 138. Rounding out our Top 10 today and continuing the strong showing for their facility was Josh Fleming and Tyler LeBouthillier from GOLFTEC Calgary Beacon Heights who both finished the Championship at 5-under par 139.
Congratulations to our Day 2 skins winners who each won $600.00/person. Host Professional Phil McCluskey on hole #4, Sam Kirkness on #8 and Todd Halpen on #9. Big thank you to our Sponsors and host venue for helping us put on another successful Championship!