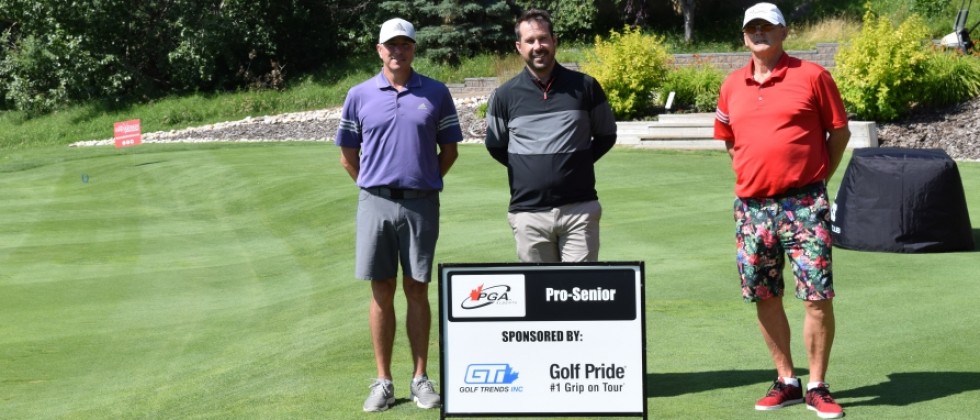 Tournament News
Whitecotton Wins Pro-Senior at The Ranch G&CC
Today's Pro-Senior was hosted at the serene Ranch G&CC and was sponsored by Golf Trends Inc. / Golf Pride. The course was in mint shape throughout the day for our competitors, we saw some blustery wind conditions which picked up for the later groups but overall, it was an excellent event!
This year saw the event switch to a Team Net Stableford scoring format which added an exciting new dimension to the competition. The point allocation in this format is 5 points for Double-Eagle, 4 points for Eagle, 3 points for Birdie, 2 points for Par & 1 point for Bogey.

Our Champions today hail from The Quarry and were comprised of Keith Whitecotton and Brian Samletzki who both fired excellent rounds to finish with 46 team points to win by 1!
Finishing in a close Second was the team of Michael McEachern & Norman Sigalet of Country Hills GC who both carded great rounds and finished at 45 team points. Finishing tied for Third at 44 team points was the team of Spencer Vandermey & Ted Asai from Edmonton Petroleum G&CC and Scott Borsa & Greg Wilkins from Devon G&CC.

Rounding out the top five in a three-way tie for Fifth were the teams of Kyle & Bruce Wade (PGA of Alberta Member), Todd Halpen & Keith Newton of Golfuture and Blaine Kruger & Doug Anderson of Northern Bear GC who all finished with 43 team points respectively.
Special thanks to our host course of The Ranch G&CC for putting on a stellar event and to our sponsor Golf Trends Inc / Golf Pride for helping make it a success!