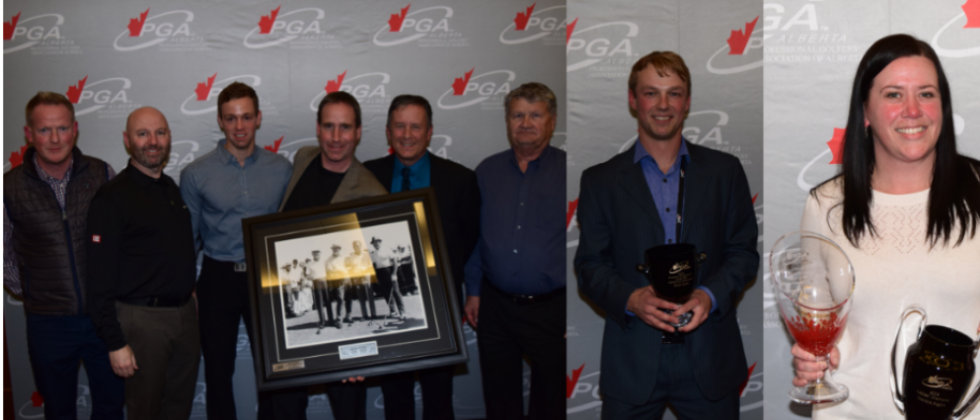 Association News
2020 Awards Nomination Now Open!
Each year the PGA of Alberta recognizes several Members and Industry Representatives for their achievements throughout the season and their career, as well as for their contributions to the Association and the Game of Golf. Members and Industry Partners are given the opportunity to vote for deserving individuals in the following categories of Awards, presented to recipients at the Annual Awards Banquet in the fall.

PGA of Alberta Awards Criteria
The Awards Process:
Based on application forms received by each Member who has been nominated by one of their peers or industry affiliates, their application is graded by an Awards Sub Committee.

The Sub Committees for each Award are comprised of past winners of that particular Award.

The 5 Nominees whose application ranks the highest from Members of the sub-committee are presented to the Selection Committee as Finalists.

The Selection Committee reviews all Award Finalists & submits confidential votes based on a point system.

Awards are presented to the recipients with the most total accumulated points.
The finalists and application forms are forwarded to the PGA of Alberta Selection Committee Members who then submit confidential votes based on a point system. The Award recipient for each category is the Member who receives the most total accumulated points from the Selection Committee.

On October 1st, the top five Nominees who have completed the Application Form and ranked the highest in their respective Award categories, as voted on by the PGA of Alberta Award Selection Committee, will be advertised on the PGA of Alberta as Finalists, from which one will be selected as the Award Winner.

The ultimate goal of the Awards Program is to recognise the accomplishments of many Members and Industry Representatives through a nomination process.