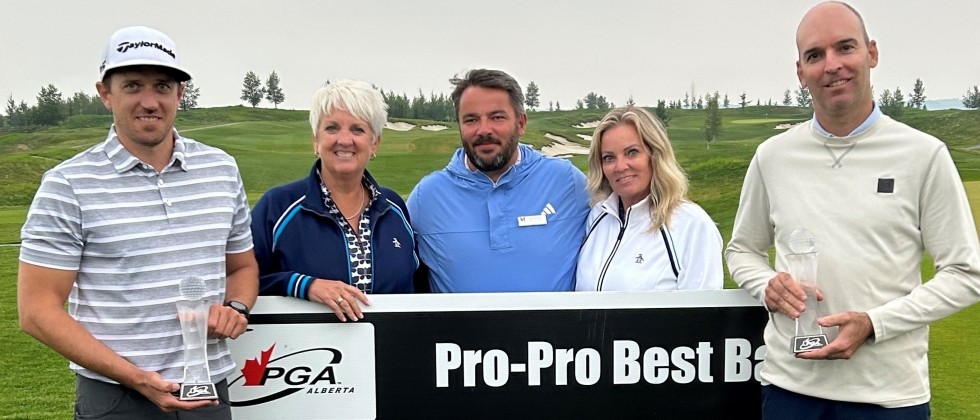 Tournament News
Heffernan & Smith Capture 2023 G&G Brands Pro-Pro Best Ball Title
Today saw the Pro-Pro Best Ball sponsored by G&G Brands hosted at the beautiful Mickelson National GC. We had a strong field of 59 teams encompassing 118 total players for the event. Our winning Team created a bit of distance between themselves and the trailing pack but the Leaderboard was tight for the chasing pack with 29 Teams under par or even today.
Our 2023 G&G Brands Pro-Pro Best Ball Champions today were: Wes Heffernan + Scott Smith (Dynamic Motion Golf Performance Centre) who carded an outstanding 10-under par 62 and were victorious over their nearest competitors by 2-strokes. Wes and Scott had a blemish free round and 10 Birdies today to take home the title firing a 30 on the front-9 and following it up with a 32 on the back-9.
In a two-way tie for Second Place was, last year's defending Champions, Eric Locke (Priddis Greens G&CC) + Samuel Kirkness (Inglewood G&CC) & Mitchell Fox (Speargrass GC) + Dallas Cantera (Cardiff G&CC) who battled all day and managed to keep some heat on our Leaders throughout the day. Both Teams carded excellent 8-under par 64's. Eric and Sam had 8 Birdies today and Mitch and Dallas had 1 Eagle and 9 Birdies today.

In a two-way tie for Fourth Place, after firing great 7-under par 65's was: Daly Hamilton (Valley Ridge GC) + Christopher Horton (Golf Channel Academy at Cottonwood G&CC) & Mathew MacDonald (Innisfail GC) + Logan Hill (River Bend G&RA). Daly and Chris had 9 Birdies on the card and Mathew and Logan had 8 Birdies on the card.
In a two-way tie for Sixth Place after carding 6-under par 66's was: Bryce Halverson (Carnmoney GC) + Craig Gibson (Sirocco GC) & Josh Berze (Priddis Greens G&CC) + Rock Ruschkowski (Sirocco GC).
In a two-way tie for Eighth Place after carding 5-under par 67's was: Geoff Carew + Michael Thompson (Windermere G&CC) & Matthew Mah (Mill Woods GC) + Kent Fukushima (PGA of Alberta Member).
Thank you to our Sponsor: G&G Brands & Host Facility, Mickelson National GC for putting on an incredible event!