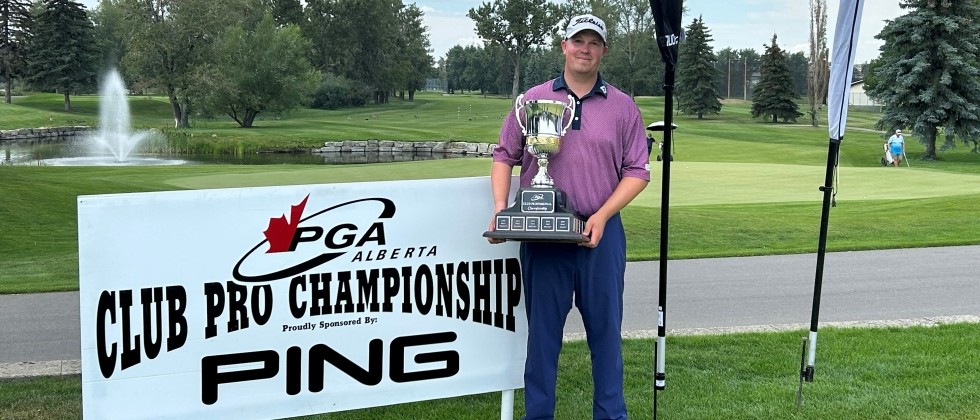 Tournament News
Kirkness Claims First PING Club Professional Championship Title On Home Turf
Players were treated to a beautiful day for R2 at the PING Canada Club Professional Championship hosted at the picturesque Inglewood G&CC in Calgary. The course continued to be in mint shape for all our competitors and the weather was excellent throughout the day for the entire field.
Our 2023 PING Club Professional Champion, Head Professional of our host venue, is: Samuel Kirkness (Inglewood G&CC) fresh off his strong 6th place showing at the PGA of Alberta Championship 2 weeks ago. Sam had a resolute performance on home turf with a convincing victory of a 5-stroke margin over his nearest competitors in this 2-day stroke play Championship.
Sam started the day tied in the lead (-4) in our final group and began his round on the front foot with the pedal to floor with Birdies on 3 of the first 4 holes. Sam only had 1 blemish to show on the front-9 after carding a strong 4-under par 32, with 5 Birdies, and a healthy lead established over his nearest competitors. He followed it up with a solid 1-under par 34 on the back-9 to cruise in as our 2023 PING Club Professional Champion. Sam had a two-day Championship total of 133 and finished the Championship at -9.
In a two-way tie for Second place was: Scott Stiles (Earl Grey GC) and Kevin Black (Redwood Meadows G&CC) who both put together two great rounds for the Championship to finish with a Championship two-day total of: 138 (-4). Scott carded our low round for today with a blistering 64 (-7), with a 4-under par 31 on the front-9 and carded a 31 on the back-9. Kevin carded a 68 (-3) today shooting 37 on the front-9 and carding a 4-under 31 on the back-9.
In solo Fourth place was: Jamie Gerlitz (Picture Butte GC) who finishes the Championship at -2 with a two-day total 140. Jamie carded -2 today with a 2-under 34 front-9, he followed it up with an even-par 35 on the back-9.
Rounding out our Top-5 for the Championship, in a two-way tie for Fifth place, with two-day Championship totals of: 142 , at Even-Par was: Matthew Mah (Mill Woods GC) & Adam Bruce (GOLFTEC Sherwood Park).
In a two-way tie Seventh place was: last year's Club Pro Champion, Stefan Cox (Calgary G&CC) & our other host professional, Jason Stanier (Inglewood G&CC) finishing the Championship at +1 with two-day totals of 143.
Rounding out our Top-10, in a three-way tie for Ninth place, finishing the Championship at +3 with two-day totals of 145 was: Weston Gillett (Lacombe G&CC), Matt Freeman (Canyon Meadows G&CC) & former Champion, Scott Allred (Elbow Springs GC).
Click here for Final Championship results

Special Thank you to our long-time Sponsor: Ping Canada for their continued support, without it, events like this would not be possible!
Thank you to our host venue: Inglewood G&CC for another terrific event and all the help their staff provided making it a memorable Championship.