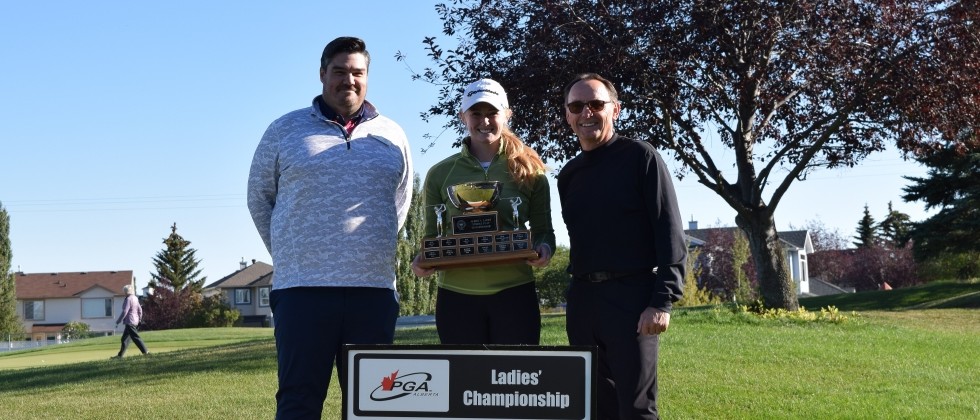 Tournament News
Rutherford Romps to Victory at First Ladies' Championship
Day two at the Lakeside GC Ladies' Championship saw a much needed return to a sunny sky and much preferred playing conditions for our competitors.
Our 2022 Ladies' Championship Champion went wire-to-wire over two rounds and is: Katy Rutherford (Silver Springs G&CC). Katy played two excellent rounds for the Championship and shot an impressive 2-under par 70 for R1 in extremely difficult conditions. She followed it up with a great +2 over par 72 today to finish the event Even-par and prevail over her nearest competitor by a 9-stroke margin of victory. Katy had 5 Birdies on the card today and finished with a Championship total of: 144.
In solo Second Place was: Gina Nelson (Magrath GC) who was our 2 time defending Champion and had to relinquish the title this year but still played 2 great rounds. Gina carded a great even-par 72 today which included 3 Birdies but was unable to overcome the gap Katy established after R1. Gina finished the Championship at a great +9 over par with a Championship total of: 153.
Rounding out our Top-3 today was: Shaye Leidenius (Wolf Creek GR) who played two solid rounds for the Championship and carded a +6 over par today with 1 Birdie on the card. Shaye took 3rd place with a 3-stroke margin over her nearest competitor. Shaye finished with a Championship total of: 155.
Congratulations to our Day 2 Skins Winners: (Gina Nelson on #2 & #5, Katy Rutherford on #3, #4 & #12, Crystal Shapka on #8, Marsha Rogers on #10.
Special thanks to our Sponsor: MKRAK
Host facility: Lakeside GC