Brian Huculak
| | |
| --- | --- |
| Current Golf Facility: | Lethbridge CC |
| Member Classification: | Executive Professional |
| Education Background: | Lethbridge College Business Administration |
| Website: | lccgolf.com |
| Social Media: | |
PROfile
I was born in 1963 and raised in Pincher Creek, Alberta. I was introduced to the game of golf by my parents and I spent my entire junior golf career with memberships at the Pincher Creek GC and the beautiful Waterton Lakes GC.
After completing high school, I enrolled in the Business Administration program at the Lethbridge Community College. In 1984, I won the Alberta Colleges Athletic Conference golf championship and my coach Bill Stewart, an Associate Professional at Henderson Lake GC at the time, landed the head professional job at Lethbridge Country Club the next winter. Stewart approached me about becoming a club professional and immediately upon graduation, I began my CPGA apprenticeship under him. In the fall of 1988 as I was just completing my apprenticeship and writing my class A exam, my first Head Professional opportunity was presented to me at the Magrath Golf Club in Magrath, AB. It was a terrific first experience managing my own pro shop at a then very busy rural golf club.
The Lethbridge CC Head Professional position opened in March of 1990 and I was fortunate enough to land the job as a 26 year old! I had married my wife Carol in 1985 and literally a week into the golf season in my new HP role, we became parents for the first time to our daughter Kelsey. In 1991 we were blessed with a second daughter Kendra and in 1995 a son Bryson.
The Lethbridge CC's GM was dismissed after the 1998 season and I took on a Director of Golf role for the next few years. In 2004, the Club restructured the management team and I became the Executive Professional and have held that role since.
To this point, I feel very fortunate to be in the golf business and I am a proud member of the PGA of Canada.
Q. What do you enjoy most about the game and the business of golf?
I thoroughly enjoy the seasonal nature of the job. It changes from month to month, from week to week, and day to day. I cannot imagine a better environment to work.
Q. What or who influenced you in becoming a Golf Professional?
I was decently competitive junior and young adult golfer winning a number of local events, so when CPGA member Bill Stewart approached me about working in the golf business and coupled with my education, it made sense.
Q. What would you be doing if you weren't a Golf Professional?
I suspect retired!! I'm just one lottery win away!
Q. What is your favourite golf course in the world?
Augusta National is my favourite I have never played (I've been to the Masters and was blown away). The favourite I have played is probably Shadow Creek in Las Vegas.
Q. Who is your favourite PGA Tour player?
I was a huge Seve fan. Currently Phil Mickelson.
Q. What is the first club you take out of your bag on the driving range?
Always a 56 degree.
Q. What is the most number of holes of golf you have played in one day?
162 in a cancer fundraiser a number of years ago. I was so beat up I could hardly get out of bed the next morning!
Q. What is your career low round and where did you shoot this score?
I've shot a 5 under 67 at Lethbridge CC and Magrath GC.
Q. What significant accomplishments are you most proud of?
The longevity of my employment at Lethbridge CC. I started young with little experience and am now a respected wiley old veteran!
Q. What other interests, hobbies and passions can you share?
My family is number one priority and any time I can enjoy an activity with them I cherish it. I enjoy travel, photography, golf, trail running, curling, cycling and whatever other activity comes along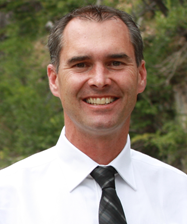 ---