Chris DiPasquale
Current Golf Facility:
Par 3 Golf Academy at Bridge Valley Golf
Member Classification:
Head Teaching Professional
Education Background:
PGM and PSYCHOLOGY
Email Address:

[email protected]



Phone Number:
403-795-6666
403-795-6666 (Alternate)
Social Media:
PROfile
Born in the Yellowknife NWT. Golf in the north was not the most popular sport but through a great passion for the game, Chris had opportunity to travel south and compete and improve himself as a junior golfer. After completing high school in the north Chris decided to enroll at the Lethbridge College and complete the Professional Golf Management Program. Shortly after graduating Chris joined the PGA of Canada. In 2005 Chris spent a season at the Land-O-Lakes golf club as an Assistant Professional, in 2007 Chris took on a Associate Professional roll at the Picture Butte Golf Club where he would spend the next 7 years. 2014 brought a new opportunity for Chris which saw him move to the Calgary Golf & Country Club for a season. Most recent was a proud member of the team at Paradise Canyon. Chris takes great pride in helping others improve their game. With countless hours of instruction with players of all ages. Chris is most proud of watching his juniors grow and has been able to see some of them go on to play at the collegiate level. Chris continues to remain competitive in golf and has had great success in his own career with a win in 2011 and multiple top 5 finishes in the PGA of Alberta Players Tour highlighted by a top 15 finish at the 2012 PGA of Canada Assistants Championship.
Q. What do you enjoy most about the game and the business of golf?
The people and fun work atmosphere
Q. What or who influenced you in becoming a Golf Professional?
My Nona
Q. What is your favourite golf course in the world?
Jasper Park Lodge
Q. Who is your favourite PGA Tour player?
Michael Block
Q. What is the first club you take out of your bag on the driving range?
8 Iron
Q. What is the most number of holes of golf you have played in one day?
63
Q. What is your career low round and where did you shoot this score?
64 (-9) Picture Butte Golf Club Heritage/Harvest
Q. What significant accomplishments are you most proud of?
Winning a PGA of Alberta event in 2011 and a Top 15 Finish at the 2012 PGA of Canada National Assistants Championship
Q. What other interests, hobbies and passions can you share?
I love to play hockey during the winter months.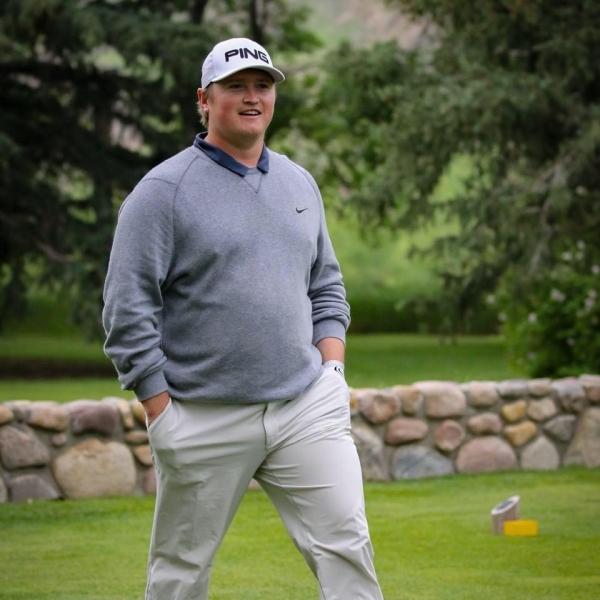 ---