David Callum
PROfile
I grew up in Winnipeg and only played a litte bit of golf there growing up. Golf became more of a passion at age 13, after moving to Saskatoon, as several children I went to school with were avid golfers. We all played at Wildwood, a municipal owned course, almost everyday we could. The course was a bit "rough" so to speak - as I recall getting lies that were almost unplayable, just off the fairway. However, this course produced some of the best players from Saskatoon over the years. It was said "If you could play here - You could play anywhere" and this quote is fact.
Next, seeking better turf conditons - I joined the Willows Golf Club, then a 36 hole facility in Saskatoon as a junior member. Later that summer the Assistant Professional offered me job and just like that - I had my first job at a golf course at age 15, and have never looked back. Over the years I have worked at Caddy Shed Golf Store in Winnipeg which was the "Golf Town" of its time, and the The Links at Quarry Oaks Golf Course in Steinbach, Manitoba (an awesome Les Furber designed 27 hole track).
My professional career started at Kingswood Golf Club, in Winnipeg, as an Assistant in 1999. In 2003, I left Kingswood and headed west to British Columbia, to persue a professional opportinuty at Pemberton Valley Golf Club just north of Whister, BC. At Pemberton Valley, I transitioned from Associate, to Head Professional and finished as the General Manager. In late 2008, I moved to Fort St John, BC to be the General Manager at Lone Wolf Golf Club, in Taylor, BC and spent 10+ years there. Over the duration of these 10 years, Lone Wolf became "the course to play" in Northern, BC as we were known for the best course conditions, awesome food, innovation, and our fun, friendly, family atmosphere. I met my wife Crystal in Fort St.John, and we were married in 2015.
Fast forward to the fall of 2018 - The General Manager position at Fort McMurray Golf Club came up and I had to have it. I knew the storied history of the club I wanted to "write the next chapter" in the Fort McMurray Golf Club book. 2019 will mark the first season with all 27 holes and a our brand new clubhouse open at the same time, as the clubhouse rebuild has been 3 years long in the making after the widfire of 2016.
Q. What do you enjoy most about the game and the business of golf?
I love most the fact that no two days are ever the same. Golf has also allowed me to build lasting relationships, with people from all over the world.
Q. What or who influenced you in becoming a Golf Professional?
The Assistant Golf Professional at the first course I ever worked at suggested I consider it as a career option.
Q. What would you be doing if you weren't a Golf Professional?
I would own a restaurant - only open in the evenings - So I could golf during the day!
Q. What is your favourite golf course in the world?
I have 3 of them. The Els club in Dubai, and Yas Links in Abu Dhabi, and Tobiano in British Columbia.
Q. Who is your favourite PGA Tour player?
Rory - One of the most down to earth guys I have ever met!
Q. What is the first club you take out of your bag on the driving range?
My lob wedge - every time!
Q. What is the most number of holes of golf you have played in one day?
54
Q. What is your career low round and where did you shoot this score?
66 - Lone Wolf GC, Pemberton Valley G& CC, Kingswood G&CC, FSJ Links Golf Club.
Q. What significant accomplishments are you most proud of?
As a player - Winning the Manitoba Match Play Championship. Having won a provincial title is something I will always cherish - even over professional events I have won. As a club manager - The transformation at my last property taking it from an undesirable place to play, to being "the place to play."
Q. What other interests, hobbies and passions can you share?
I still play hockey on occasion, and enjoy spending time with my wife, family and friends.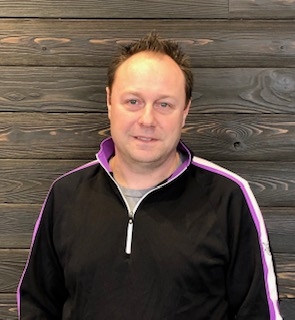 ---