Derek Gibson
| | |
| --- | --- |
| Current Golf Facility: | None |
| Member Classification: | Life Member |
PROfile
Golf wasn't always at the forefront of De rek Gibson's career plans. Growing up in the 1950s and 60s playing hockey on the ponds of Prince Albert, Derek centered players on teams at every level of play, eventually moving into Junior and Senior Leagues in Greensboro, North Carolina and Spokane, Washington during the winter months, and working at the golf courses during the summer. "With only six teams in the National Hockey League's until 1967, it was pretty tough to make a go of it at that time," says Gibson, "you had maybe 120 guys in the league."

And so Derek's focus on golf grew more intense with each summer in Prince Albert and later on in Saskatoon, working as a member of the greenscrew under Head Professional Hubert Cooke, and t hen with Peter Semko at Holiday Park. "Working for $50 a week for Peter was what I was paid in '62. "It was fun though, helping build a brand new golf course. You know, I learned a lot there with Peter those two years, that's for sure."

In 1964, Gibson left Saskatchewan and moved to Ontario, to work year-round with Jack Kay, Head Professional at the Rosedale GC in Toronto. Derek stayed with Jack for five years, working six months in Toronto and six months at Lyford Cay GC in Nassau, which at the time is where Jack spent his winter months. "I bumped into a lot of interesting people down in Nassau," recalls Gibson. "One day, I open the shop and a few moments later I look up from the counter and I'm staring at Sean Connery, standing there with a bag of clubs over his shoulder. He was in the Bahamas filming Thunderball (1965), and with shooting at night, I guess he had time for golf during the day. We must have played more than 20 rounds together that year."

In the fall of 1969, Derek applied for the Mayfair position, which was being vacated by Ron Rayner, who was moving to The Summit GC in Ontario. Derek flew fr om Toronto to interview for the job, en route to Nassau for his winter term with Jack, and In February of 1970, he was offered the job, which he anxiously accepted.

While at Mayfair, Derek has seen a number of professional s, members and guests come through the Mayfair Gates to the historic Edmonton Club. "I generally kept assistants for five years, if they wanted," says Gibson. "That was ideally the best for both of us." Some of his Assistants who moved into Head Pro roles are Ron Belbin, Randy Breen, Gord Hayward, Dean Heck, Jim Jempson and Pat Little. He has traded conversations over time with Ken Venturi, Kenny Rogers, George Strait, Wayne Gretzky, Mark Messier and Mike Harris, and in 1980 when Mayfair held the Canadian Open, Derek had the likes of Arnold Palmer, Isao Aoki and Bob Charles walk into his pro shop.

In 1972, after his second season at Mayfair, Derek was approached by a few Members of the Alberta PGA and was asked to consider helping out as a Member of the Board of Di rectors. Derek gladly accepted and his enthusiasm for the Alberta Zone continued to grow, as he served on the Board for eight more years before becoming president in 1981. Derek remained as an advisor to the Board following his term in 1983, a post he has kept in guiding the Alberta PGA ever since. Derek was voted by his peers as the Club Professional of the Year in 1985.

In 2001, Derek retired from his duties at Mayfair, however, he and wife Irene continue to be a part of the growth of the club, as lifetime members. A Life Member of the Canadian PGA, Derek became the fourth recipient of the Alberta PGA Lifetime Achievement Award in the Association Builder Category.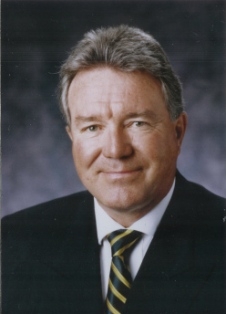 ---