Jim Boomer
| | |
| --- | --- |
| Current Golf Facility: | Wolf Creek GR |
| Member Classification: | General Manager |
| Education Background: | Business Diploma from Red Deer College 1975 |
| Website: | www.innisfailgolf.ca |
PROfile
Born and raised in Red Deer, Alberta, Jim Boomer began playing golf at the age of twelve at the Red Deer Golf & Country Club. Like most kids his age, when he first started to take up the game, he used the skills he had been taught by his father, skills which were then further developed by one of the province's golf icons Martin Allred and more significantly by one of Jim's mentors in the game, Red Deer's Club Professional Don Price. In 1973 Jim won the Central Alberta Junior Championship, and in 1978, after working a few years as an Accounting Clerk at the Red Deer Regional Hospital, Jim decided to pursue a career in the business of golf. He followed his mentor Don Price to Calgary, working at the Canyon Meadows G&CC for two seasons, joining the CPGA as an Apprentice in the process. In 1980 he moved north to work at Grande Prairie G&CC under Don McFarlane, and two years later he had earned his Class A status with the CPGA and accepted his first Head Pro job, further north at the Fairview GC. His career as a Head Professional then took him through Mighty Peace, where he spent four years managing the shop and in 1987 he made the move to Innisfail, where he is today. Jim's approach to the profession of golf follows a similar path to the ones of his mentors, the game's traditionalists, the true ambassadors to the game. Viewing his role as a mentor to future generations of the game himself, he continues to place high emphasis on a golf professional who is well-rounded in every aspect of the game and who treats everyone they encounter with the utmost respect and professionalism at all times. His teaching style conveys a message for students to swing the clubhead using "feel" rather than mechanics. He also suggests the best way for a golfer to improve their game, is to play as much golf as they can in pressure situations, where they are forced to hit fairways and greens as well as make the shortest of putts with something always on the line. This is no doubt something all kids who were invited to play at the Highlands learned from the legendary Golf Professional Henry Martell. In 1983, Jim won the 36-Hole Jasper Pro-Am, and was declared the Alberta PGA Provincial Champion. In 2000, he was successfully elected to the Alberta PGA Board of Directors, and continues to offer his input into Employment, Membership and Finance Committee Meetings, recently being nominated by his fellow Board Members as the Association's next President. As a player, teacher, merchandiser and community volunteer, Jim continues to demonstrate the all encompassing leadership qualities of a golf professional. Like his predecessors before him, he also hopes to pass on some of his talents and knowledge to the staff and students he comes in contact with, as they climb through their careers and ranks of the game of golf.
Q. What do you enjoy most about the game and the business of golf?
The people who love the game of golf
Q. What or who influenced you in becoming a Golf Professional?
My dad influenced me the most. We still discuss the golf swing daily.
Q. What would you be doing if you weren't a Golf Professional?
I believe I would be involved in a sport of some kind.
Q. What is your favourite golf course in the world?
Kananaskis (Both courses)
Q. Who is your favourite PGA Tour player?
John Daly
Q. What is the first club you take out of your bag on the driving range?
5 Iron
Q. What is the most number of holes of golf you have played in one day?
54
Q. What is your career low round and where did you shoot this score?
68 at the Red Deer G&CC
Q. What significant accomplishments are you most proud of?
The appreciation I receive from my golf students
Q. What other interests, hobbies and passions can you share?
Dachshunds, hockey, my grandson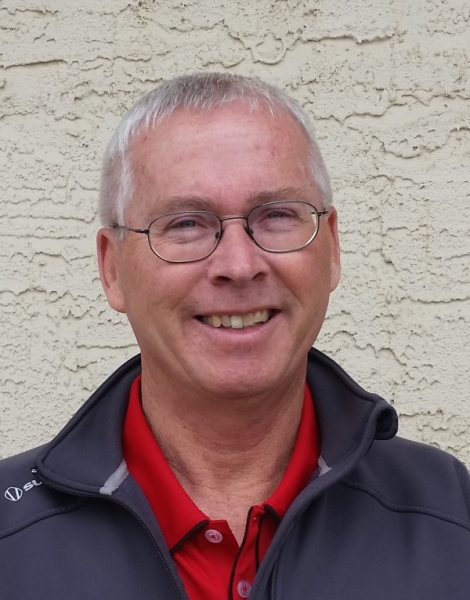 ---