Kylie Frederick
| | |
| --- | --- |
| Current Golf Facility: | Yellowknife GC |
| Member Classification: | Director of Golf |
| Social Media: | |
PROfile
Born in Vancouver, raised in Parksville on Vancouver Island. Kylie began golfing at the age of 7 after her dad had some clubs built for her when he saw her swing left-handed.
Kylie grew up at Pheasant Glen Golf Resort and attended the Brent Morrison Golf Academy from the age of 15-18 and competed in many BCGA and RCGA events.
Attended Oklahoma City on a Golf Scholarship and competed on the #1 ranked team in the NAIA.
Obtained her Pro status in 2012 at the Christina Lake Golf Club during the BC amateur.
Kylie has gained a ton of experience in her 10-year career. She has worked as a range kid, pro-shop attendant and has always surrounded herself with Golf. She is willing to lead by example and would never ask someone to do something that she would not do herself. She has had incredible mentors over her career and is grateful for all the experiences.
Kylie is never afraid of a challenge and to step outside her comfort zone. She will stand up for what is right and make sure that every voice within the golf industry is heard.
Kylie's goals as a Golf Professional are to provide exceptional customer service, build strong rapport with all the customers and members and give them an incredible experience.
Kylie is the first female Golf Professional to work within the Northwest Territories and plans to grow the game to other women and juniors.
Kylie has spent the last 2 years as the Associate Golf Professional at the Yellowknife Golf Club and has now taken the reigns as the first Female Director of Golf.
Kylie's goal is to continue to showcase the diversity and inclusion within the CPGA and represent the 8% of women that work hard every day within this industry.
Kylie is part of the LGBTQ2S+ community and promotes "Golf is for everyone."
Her passion to grow the game of golf and help as many people as she can shows her passion for the industry.
She is kind to everyone she meets and treats everyone with the utmost respect that they deserve.
https://www.pgaofcanada.com/media/kylie-frederick-says-diversity-and-inclusion-starts-with-a-conversation-20344
https://www.nnsl.com/sports/kylie-frederick-becomes-first-woman-to-take-charge-of-golf-operations-at-yellowknife-golf-club/
Other Professional Experience:
Crown Isle Golf Resort, Courtenay, BC
The Falls Golf Club - Chilliwack, BC
Ledgeview Golf Club, Abbotsford, BC (home of Adam Hadwin and Nick Taylor)
Arrowsmith Golf Club, Qualicum Beach, BC
Q. What do you enjoy most about the game and the business of golf?
The rapport with members you get to build and I love to teach and grow the game!
Q. What or who influenced you in becoming a Golf Professional?
My parents
Q. What would you be doing if you weren't a Golf Professional?
Radio Personality/ Sports Broadcasting
Q. What is your favourite golf course in the world?
Augusta National and St Andrews
Q. Who is your favourite PGA Tour player?
Rory Mcllroy
Q. What is the first club you take out of your bag on the driving range?
Wedge
Q. What is the most number of holes of golf you have played in one day?
72
Q. What is your career low round and where did you shoot this score?
59- Arrowsmith Golf Club
Q. What significant accomplishments are you most proud of?
Competing at a collegiate level and being on the #1 Ranked team in the NAIA, obtaining my CPGA Card.
Q. What other interests, hobbies and passions can you share?
I love the health and wellness industry and I am very passionate about helping others. I am very active and I also am a business owner.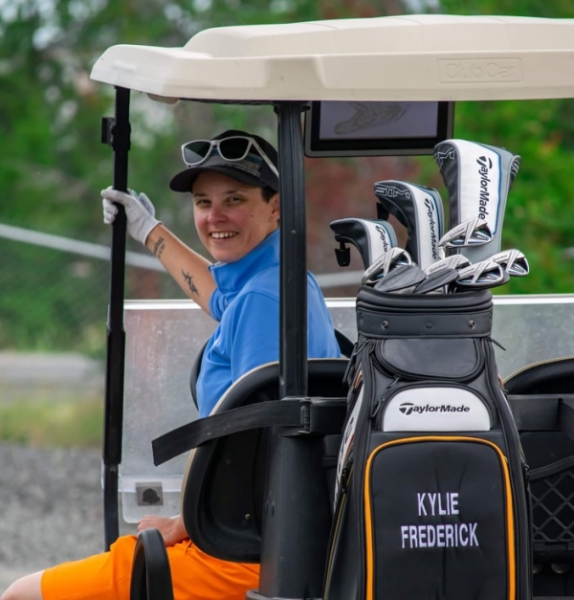 ---