Slade King
| | |
| --- | --- |
| Current Golf Facility: | Links of GlenEagles (The) |
| Member Classification: | Executive Professional |
| Education Background: | PGM Lethbridge College, Turf Certificate U of Guelph |
| Website: | www.playgolfcalgary.com |
PROfile
I started off in the business at Turner Valley picking range balls out of the ditch and selling them back to the Pro, Ken Frame for 2c a piece. I moved on to parking carts, proshop, as well as a few years on the turf crew. Through these years I found I loved being around the course, playing, working, and just hanging out. I worked for some great golf pros which made it an easy decision to make it a career. I went to PGM at Lethbridge and took a job at HeatherGlen where I saw a lot of opportunity to move quickly into a management role. I became the Head Pro at HeatherGlen when the company purchased GlenEagles where I had a dual Head Pro role and traveled between the courses. As the company grew I became the General Manager of a multi course operation now called Play Golf Calgary. I have been very fortunate to be involved in a 9 hole addition, the construction of 2 clubhouses, the opening of a brand new course in Blue Devil, the planning, design, and construction and now the opening of Serenity. The fun never stops! I was never the greatest player relative to other Golf Professionals and am very lucky that I was in a position to do what I have on the business side of golf. I love learning new things and so far my career has given me every opportunity to do that. Although I at arms length from traditional Golf Professional duties I always feel like a Golf Pro doing "Management" things. I try to keep up on new equipment and technologies, and volunteer with junior programs from time to time. Along my journey I also completed a Turf Grass Maintenance Certificate and am currently the NGCOA Alberta Chapter President. Above all else I am the father of 3 fantastic girls and can be found at the Cochrane dance studio late most week nights.(Watching them, not dancing ), or on a date with my beautiful wife.
Q. What do you enjoy most about the game and the business of golf?
I love that fact that every day is different. Not only in season but also in the off season. I never get bored and there is always something new to learn.
Q. What or who influenced you in becoming a Golf Professional?
I had the opportunity to work for some great golf pros at a young age. I started picking balls for Ken Frame and worked for John Wilson and Kevin Broderson for a number of years. Once I started a PGM program I was able to learn from Dean Spriddle when h
Q. What would you be doing if you weren't a Golf Professional?
I would have to think I would have went into finance and regretted it. I may have started my own business. Really tough to say, as golf is the only thing i have ever done.
Q. What is your favourite golf course in the world?
I do not travel and play alot, We Ko Pa is a favorite of mine. But locally I love playing Priddis any chance I get.
Q. What is the first club you take out of your bag on the driving range?
Driving range? Who has time for that?
Q. What is the most number of holes of golf you have played in one day?
36 is where I max out, I can barely stay focused for 18.
Q. What is your career low round and where did you shoot this score?
67 at HeatherGlen, 69 a few times at Gleneagles
Q. What significant accomplishments are you most proud of?
Professionally getting my PAT was a struggle and I will never forget the moment I had to make birdie and drop a 5 footer on the last hole to hit the number. Raising 3 teenage girls is my biggest challenge to date.
Q. What other interests, hobbies and passions can you share?
I am an avid mountain biker. I love running completing races with my wife. In the winter you will find me on a snowboard on any powder day.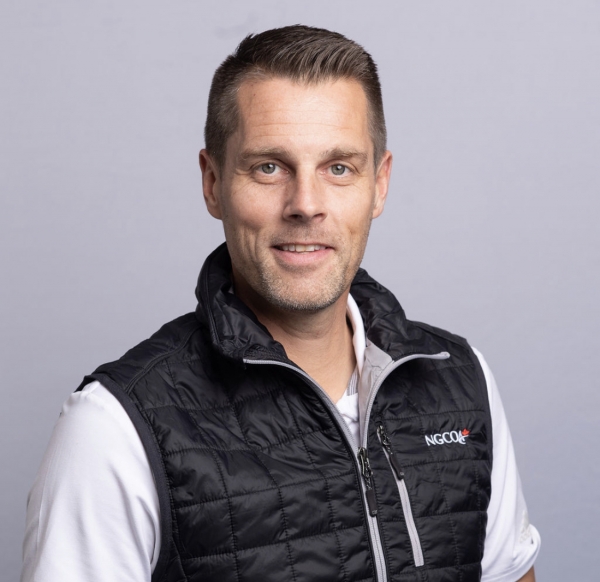 ---