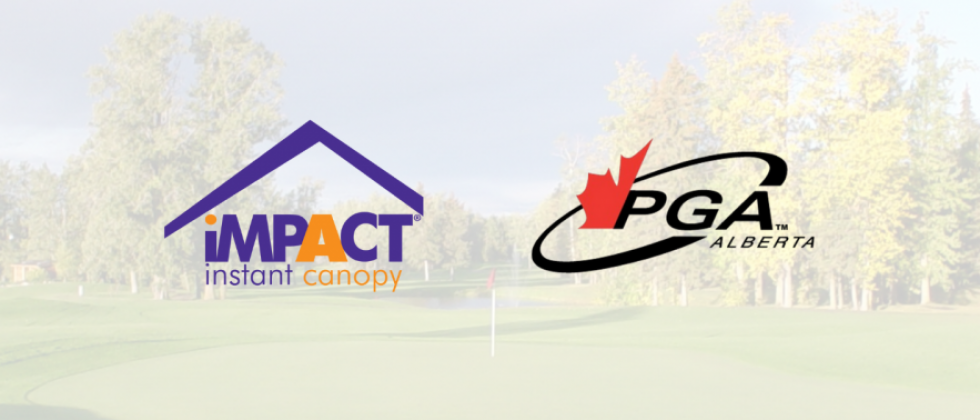 Partner News
PGA of Alberta and Impact Canopy Canada Extend Partnership for Two Years
The PGA of Alberta is pleased to announce an extended partnership with Impact Canopy Canada Inc. for the next two years! Impact Canopy Canada will be a Presenting Sponsor of the Buying Show Welcome Breakfast held on the first day of the Show.

In 2022, the Welcome Breakfast will be hosted on Tuesday, October 18th at the BMO Centre in Calgary. Mark your calendars now as all attendees and exhibitors of the Show are encouraged to attend this complimentary event which begins at 8am, 1-hour before the Show officially opens at 9am.

"Our partnership with the PGA of Alberta is a relationship we value greatly at Impact", stated Rachel Hart, Marketing Manager of Impact Canopy. "We look forward to continuing our relationship and furthering our commitment to elevating the PGA brand and providing unparalleled offerings to all members."

EXCLUSIVE MEMBER SPECIAL: Special discounts are available for members of the PGA of Alberta on select Impact Canopy Canada products, including Canopies, Marquee Tents, Flags, Table Covers, Banners, Tee Dividers, Director Chairs, and more. They can turn your vision into reality!
Click Here for Exclusive Special
About Impact Canopy Canada…
Impact Canopies has a 20-year history of helping leading organizations create exciting and highly visible branding campaigns and marketing initiatives. Impact Canopies Canada Inc. was formed in 1999 and has more than a decade of experience manufacturing and distributing all styles of canopies, pop-up tents, and accessories.

With offices all throughout Canada, Impact Canopy's custom canopies, pop-up tents, banners, flags, inflatables, and more are widely available throughout North America at numerous convenient locations. Through the Impact Canopy offices, you can expect an extensive inventory, an available rental fleet, and expert sales and service advice.

For more information on Impact Canopy Canada and to see what products they offer, please visit their website www.impactcanopy.ca or contact their Representative below:

Greg Swalwell Event Branding Specialist
T: 604-833-1472
[email protected]

Follow Impact Canopy Canada on social media today...