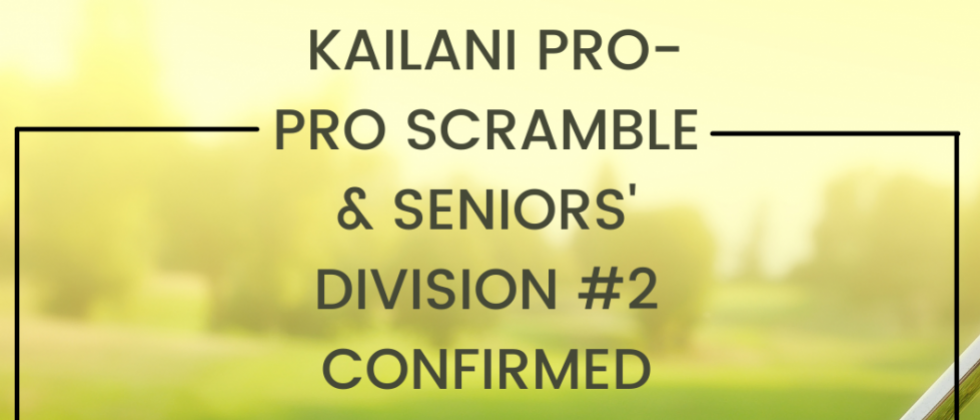 Tournament News
KAILANI Pro-Pro Scramble & Seniors' Divison #2 Date & Venue Announcement
We are happy to announce that dates and venues have been confirmed for the KAILANI Pro-Pro Scramble and the Seniors' Division #2 events for the 2023 season.
The KAILANI Pro-Pro Scramble is set for Monday, September 11th with a 2:00 PM Shotgun start at Bearspaw GC in NW Calgary with a 2:00 PM Shotgun start and 60 Team Field.
This stunning Par 71 layout measures 6868 yards of dramatic terrain set in a natural alpine amphitheatre. Whilst rewarding excellence, this Bill Newis design is also extremely playable but offers plenty of challenge. Bearspaw exploits every aspect of this impressive landscape, with water features weaving through 11 of the holes. Subtle elevation changes make for thought-provoking club selections as you navigate your way through generous tree-lined fairways. Each hole exudes individual characteristics making for diverse shot-making over 18 holes.
Due to the limited field size and anticipated demand for this event, the Registration opening date for this event will be (April 11th) at 10:00 AM to ensure every Member has an equal opportunity in registering for this event.
The Seniors' Division #2 Event and accompanying PAT has been confirmed at Lakeside GC just east of Calgary in Chestemere and is set for Tuesday, July 4th with Tee Times starting at 9:00 AM for the Seniors' Division followed by the PAT players.
Submit your Tournament Eligibility Form now - click here.