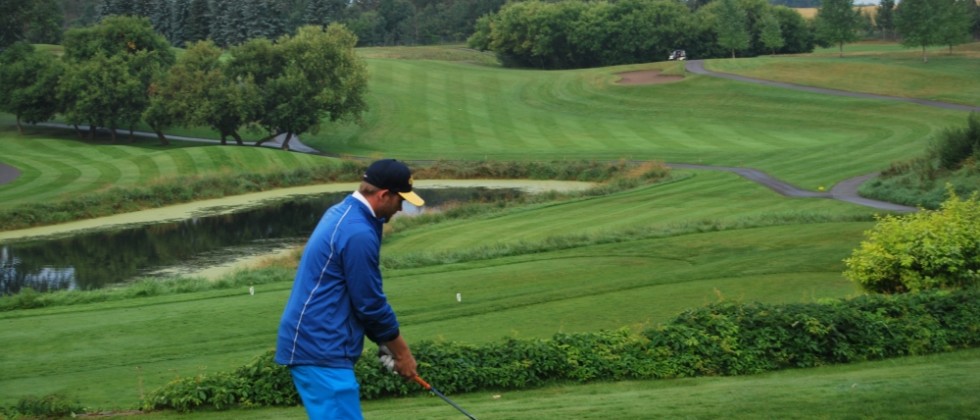 Tournament News
Assistants' Championship Heading to The Ranch G&CC


The PGA of Alberta and long-time sponsor, Cobra Puma Golf, are thrilled to announce that the 2018 Assistants' Championship will be heading to The Ranch G&CC.

The Ranch G&CC's par 71 layout shows a wide blend of unique and challenging holes, such as hole #10. This par 5 is typically played as a 3-shot hole, unless an absolutely perfect tee shot is hit into the narrow uphill fairway. Hole #5 is what many call the "signature hole" at The Ranch. Known as the Pit-Hole, it demands a drive in the fairway which is difficult due to the severe left to right slope. Stretching approximately 6,500 yards from the back tees, this scenic course will tempt players with the harmony of the natural beauty and woodland surroundings that flow through the 18-hole course.

"We are looking forward to hosting all the Assistant Pro's this year at The Ranch G&CC" said Murray McCourt, Executive Professional at The Ranch G&CC. "The course is in phenomenal shape right now and should be a great test of golf for these players. It can be a tough course for how short it is but I'm looking forward to see what the scores will be over the two-days".

With sixty of Alberta's top Golf Professionals heading to one of Edmonton's premier clubs, competition will be fierce not only vying for a piece of the $15,800 purse, but also in hopes to claim a spot on the Alberta Assistants' Team. The winner of the Championship will automatically be granted a spot on the Team that will represent the zone at the National Championship in September being hosted in Calgary at The Winston GC.

Competitors will look to over shadow reigning champion Craig Gibson's (#7 on Order of Merit, Sirocco GC) impressive tournament low of 2-under 140 at last year's Championship hosted at Cottonwood G&CC as he defeated Eric Locke (#5, Priddis Greens G&CC) in a playoff. In a two-way tie sitting only 1-stroke back was Kasey Timms (#16, Glendale G&CC) and Braden Chown (Desert Blume GC) who posted scores of 1-under 141.

Click here to view Order or Merit Standings

Other top contenders this year include: Riley Fleming (#2, NGA Dome), winner of three PGA of Alberta events this year including the Vulcan G&CC, Lynx Ridge GC and the River Spirit GC GSH Series events. Dustin Risdon (#11, NGA @ McCall Lake), winner of the 2016 Assistants' Championship and the 2018 GSH Series at Stony Plain GC in July. Wes Heffernan (#4, Golf Canada Centre), winner of the Pro-Junior individual side and the GSH Series event at Valley Ridge GC. Dillon Batsel (#6, Connaught GC) finished second at the Wolf Creek GR GSH Series and finished third at the Lynx Ridge GC GSH Series. Holding a number of impressive titles, including four Assistants' Championship titles since 2008, four Tour Championship titles since 2010 and the 2014 PGA of Alberta Championship, Mike Belbin (#32, Royal Mayfair GC) will be looking to add this trophy to his collection.

Round One Draw – Click Here

Round one on Tuesday, August 7th will kick off with tee times starting at 8:00am and the final group to tee off at 11:10am. The second round will be a crossover start beginning at 8am, followed by the Championship presentation beginning at approximately 3:00pm on Wednesday, August 8th.

All media are invited to attend the Championship as guests of the PGA of Alberta. Please contact Tournament Manager Trevor Rioux for more information, [email protected].