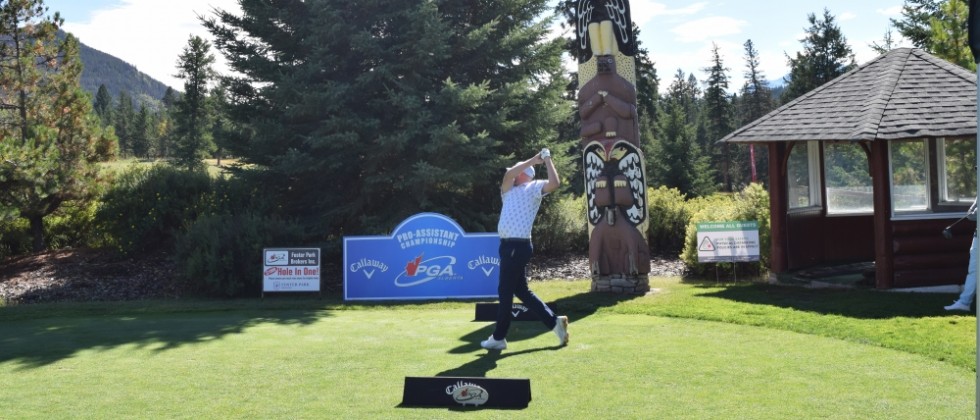 Tournament News
Cardiff G&CC & Modern Golf Tied for Lead at the Callaway Golf Pro-Assistant
Today saw the third last event of the season at the sprawling & picturesque Jasper Park Lodge GC and sponsored by Callaway Golf. We had a packed field of 50 teams and 100 Professionals playing today who saw some of the best summer conditions to date for our competitors.
Leading the way after round one today was the teams of Modern Golf (Jeremy Maher & Craig Dale) and Cardiff G&CC (Dallas Cantera & Matthew Mah) who all played lights out golf and carded unreal 8-under par 63's to hold a 1-stroke lead going into tomorrow.
In a two-way tie for third was the teams of Miskanaw GC (Jason Vaughan & Graig Walsh) and Windermere G&CC (Brice MacDermott & Cam Martens) who carded excellent 7-under par 64's respectively to be right in the thick of things tomorrow.
In a three-way tie for fifth was the teams of Calgary G&CC (Stefan Cox & Tom Greiner), Speargrass GC (Jacob Manz & Mitchell Fox) & last but not least Sundre GC (Scott Shouldice & Corey Beaver) who all carded great 6-under par 65's respectively.
Congratulations to Cody Hancock of Sturgeon Valley G&CC for winning the closest-to-the-pin competition today on the challenging par 3 ninth hole with an excellent shot that was 4.5 feet from the pin. The first tee time is at 8:57am tomorrow and our leaders of Cardiff G&CC & Modern Golf are going out at 12:33 PM.