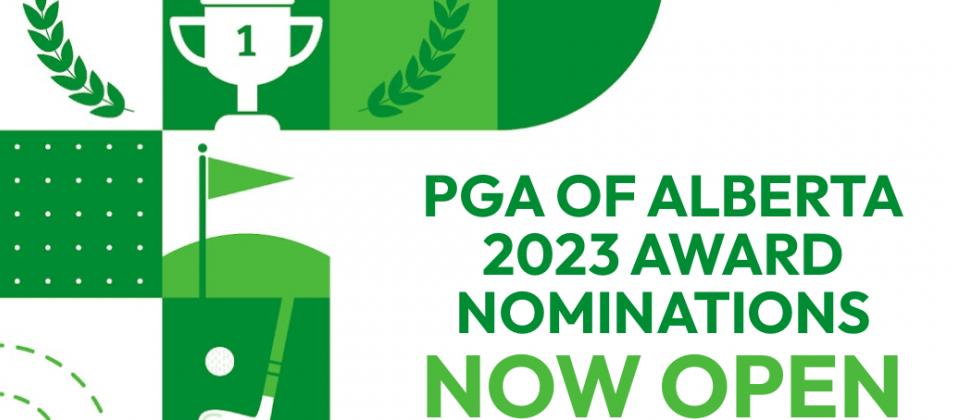 Awards News
2023 Awards Nominations Now Open
Nominations for the 2023 PGA of Alberta Awards Program are NOW OPEN!

Each year the PGA of Alberta recognizes Members and Industry Representatives for their achievements throughout the season, their career, as well as for their contributions to the Association and the game of golf.

We encourage all Members and Industry Partners to become a part of our Awards Program by nominating an individual or facility that you feel is deserving of an Award. In total, nine Awards are up for nomination this year:
---
Please note the following for the 2023 Awards Program:

Coach of the Year Award Eligibility - Nominees must be certified within Golf's National Coach Certification Program Competition stream (Coach of New Competitors, Coach of Developing Competitors) to be eligible to be a Finalist and win the Award.

Top 100 Points - Every member that submits a nomination form by August 18, 2023, will receive 2 Top 100 points for this program year (ends December 31, 2023). The maximum points you can receive is 2 total, even if you nominate more than one person.

Nomination(s) – We encourage all PGA of Alberta Professionals and Industry Partners to nominate a deserving individual in each of the Award categories. Self-nominations are not permitted.

Awards Criteria - Click Here to view the criteria for each Award.

Deadline to Nominate - Nominations for all awards will close at the end of day on Tuesday, September 5, 2023.

Video Bio Submissions - All members who are nominated for an Award are highly encouraged to submit a short video bio in addition to their application form.

Awards Banquet (Save the Date) - Award winners will be revealed at the Awards Banquet on Wednesday, October 18, at the Calgary BMO Centre (after day two of the Buying Show).