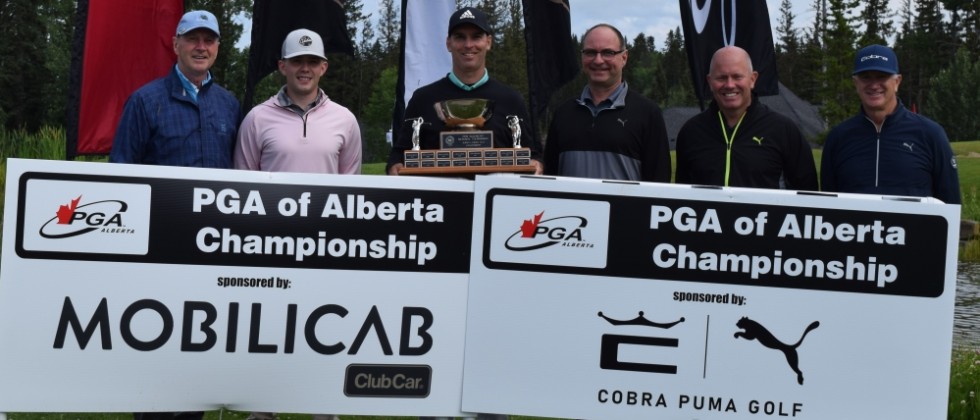 Tournament News
Heffernan Takes Home Second Cobra Puma Golf & Mobilicab PGA of Alberta Championship
The Cobra Puma Golf & Mobilicab PGA of Alberta Championship is complete and Wes Heffernan (Dynamic Motion Golf Performance Centre) has come out on top of a stellar field at the beautiful Wintergreen G&CC.
Wes followed up a 9-under 63 on Day-1, with an even par Day-2 to take home the Championship. After shooting 36 on the front, Heffernan had 2 Birdies on the back to win by 1 stroke. Wes had 2 putts to win on the 18th green and made his second, approximate 3-foot putt to prevail. He finished the Championship with a two-day total of 135.
In Second place, Mitchell Fox (Speargrass GC) carded a bogey free round of 4-under par 68 with 4 Birdies, to finish the Championship at 8-under par with a two-day total of 136.
In a tie for Third place at 7-under, Mike Belbin (Royal Mayfair GC) and Eric Locke (Priddis Greens G&CC). Belbin had 6 Birdies to shoot one of the low rounds of the day at 67. Locke finished his second round with 4 Birdies to shoot a 2-under par 70 and kept the heat on Wes throughout the day. They both finished with Championship totals of 137.
Rounding out our Top-5, in sole possession of Fifth place, Scott Stiles (Earl Grey GC) carded a 6-under par Championship total, while carding 4-under par 68 today with 6 Birdies and finished with a two-day total of 138.
Samuel Kirkness (Inglewood G&CC) followed up his 67 on Day-1 with an even par 72 to take home Sixth place, finishing the Championship 5-under par with a two-day total of 139.
Finishing our Top-10, in a 5-way tie for 7th, Levi McDermott (Big Buck Golf Centre), David Maccomb (Royal Mayfair GC), Kevin Black (Redwood Meadows G&CC), Matt Bean (Priddis Greens G&CC) and Michael Harrison (Coal Creek GR) after carding 4-under par for the Championship with two-day total's of 140 respectively.
Congratulations to our R2 Skins Winners: (#6 Keller, Austin, #9 Nutt, Michael, #18 Pilon, Matt) who each take home $560 per skin!
Thank you to our Tournament Sponsors for their continued strong supported, Cobra Puma Golf and Mobilicab who make events like this possible!
Thank you to our host venue, Wintergreen G&CC and their staff for a great two-days and event!