Lyndon King
PROfile
Born and raised in Wawota, Saskatchewan, played and ref lots of hockey. Owned and operated 4 department stores and dry cleaning store in Carlyle, Saskatchewan for 17 years. Was not sure if I was going to buy a Harley Davidson or go back to school. Attended the Professional Golf Management Program at Camosun College in Victoria. Worked at Olympic View and Arbutus Ridge for 5 years. Moved to Alberta to be closer to my daughter in Calgary and happy to be Gm / Head Pro at Collicutt Siding Golf Club, by far and away the best golf course on Western Drive.
Q. What do you enjoy most about the game and the business of golf?
Dealing with all the interesting people.
Q. What or who influenced you in becoming a Golf Professional?
Combining my business experience and my love of the game.
Q. What would you be doing if you weren't a Golf Professional?
Taking the odd day off.
Q. What is your favourite golf course in the world?
Wolf Creek, Mesquite, Nevada
Q. Who is your favourite PGA Tour player?
Graham Delaet
Q. What is the first club you take out of your bag on the driving range?
PW
Q. What is the most number of holes of golf you have played in one day?
216 (Longest day of golf fundraiser)
Q. What is your career low round and where did you shoot this score?
64 in Carlyle (very easy par 70 track)
Q. What significant accomplishments are you most proud of?
Having the guts to leave a comfortable life style to become a golf professional.
Q. What other interests, hobbies and passions can you share?
Travel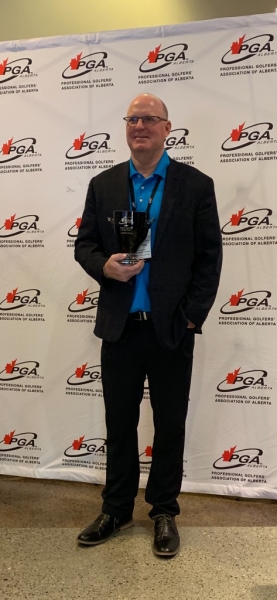 ---