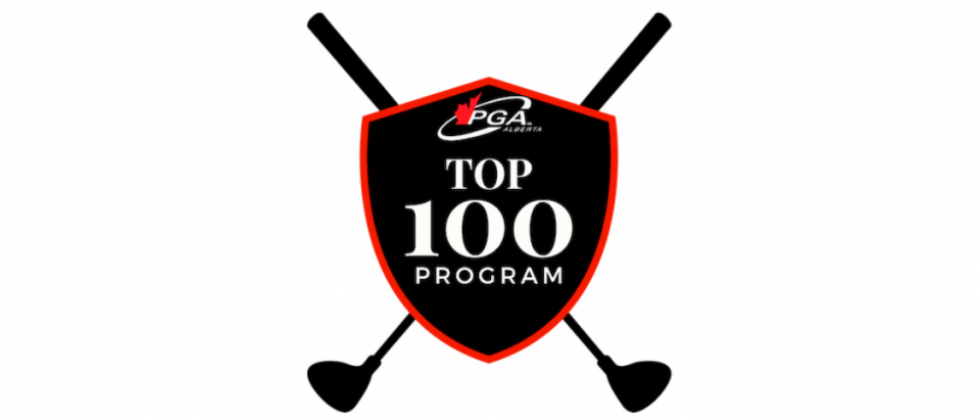 Top 100 News
PGA of Alberta Launches Top 100 Program
The Association is proud to launch the Top 100 Program (formerly the Professional Development Program) for Members of the PGA of Alberta. The Top 100 Program is based on a pre-determined measurable criteria designed to recognize Members who dedicate their time and demonstrate proven abilities in advancing the Association's interests for the benefit of all Golf Professionals. The following are areas where points are awarded; Education & Employment, Association initiatives and Tournaments. Points will be automatically updated for all PGA of Alberta events. Please refer to the point breakdown on the Top 100 Program page to see where points can be earned.

The winner of the yearly award will be recognized at the Awards Banquet during the annual Buying Show and will be given to the Member with the most points accumulated. Every Buying Show begins a new year for the Top 100 Program and will conclude in October of the following year. We are delighted to revamp this program into something bigger for our Members and introduce new initiatives.

Top 100 Professional: As part of this new program, the PGA of Alberta will acknowledge the Top 100 Professionals which will be the top 100-point earners for that year of the program. These members will be recognized as a "Top 100 Professional" for that year and will receive a custom Top 100 logo in which they can use to further promote themselves as Golf Professionals.

Extracurricular Activities: In addition to receiving points through attending PGA of Alberta events, Members are eligible to receive points by attending PGA of Canada Education Sessions. In order to receive these points for the Top 100 Program, Members are required to submit an Extracurricular Approval Form. If the form is not submitted for any PGA of Canada events you attended, points will not be rewarded. This form can be found on the Top 100 Program page.

Cash Prizes: In addition to recognizing the Top 100 Professionals, the PGA of Alberta will offer cash prizes as an added incentive to the top 7-point earners for this year. Total cash prizes will equal $4,000! The prizes will be distributed as follows:
| | |
| --- | --- |
| Winner | $1,200 |
| 2nd | $900 |
| 3rd | $700 |
| 4th | $500 |
| 5th | $350 |
| 6th | $225 |
| 7th | $125 |
This program will be a great initiative for the Association moving forward by building excitement for the Award throughout the year while also achieving the following:
Encouraging Members to participate in all Association programs
Rewarding Members for their continued support and contributions to the Association
Encouraging Members to grow professionally by being involved in different areas of the Industry
Click here for full program details and to view the current standings.