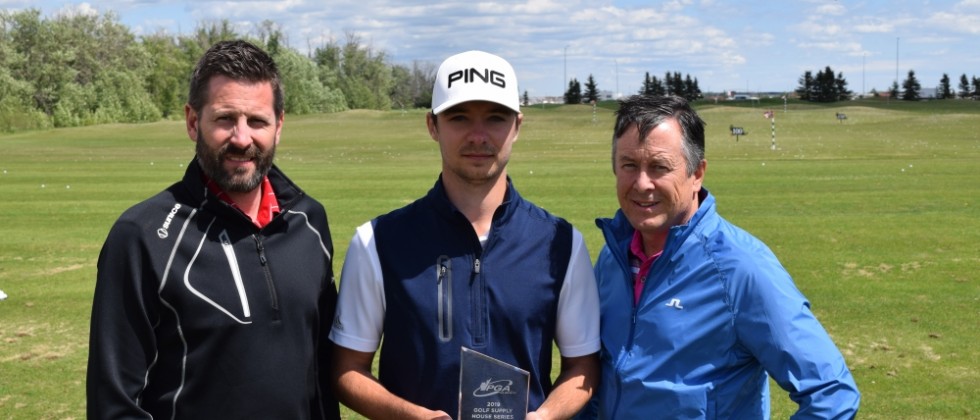 Tournament News
Round 2 saw much more favourable playing conditions at RedTail Landing GC for all competitors as the wind stayed relatively calm and the sun was shining. The players battled it out in attempt to win the first 2-day event of the Golf Supply House Series.

Starting the day with an even-par 72, Spencer Vandermey (Edmonton Petroleum G&CC) was able to improve upon his round one lead over the rest of the field by posting a solid second round score of 3-under. Starting the back 9 with two straight birdies led Spencer to claim his first ever victory as a PGA of Alberta Professional with a 72-69-141. Craig Gibson (Sirocco GC) was able to sustain his steady play to finish round 2 with a 1-under 71 to capture sole possession of second place with a tournament total 74-71-145.

Finishing in third place and climbing his way up the leaderboard with the lowest round of the day was Riley Fleming (NGA Dome) posting an amazing 5-under 67 to finish the tournament with a two round total of 79-67-146. In a two way tie for fourth place was Dallas Cantera (Cardiff G&CC) and Blaine Kruger (Stony Plain GC) who both played steady golf over the two-days to finish the tournament with a total of 150.

The next Golf Supply House Series event on the schedule is at Turner Valley GC on June 10th. Today the PGA of Alberta is comprised of over 550 Golf Professionals who are Leaders in Golf. We are Teachers, Managers, Merchandisers, Mentors, Promoters, Players and Ambassadors. We provide Instruction to all golfers, Leadership for all golf environments and the Expertise necessary to handle any situation. Our livelihood is Golf. Whatever Golf means to you.

Click here for final results.