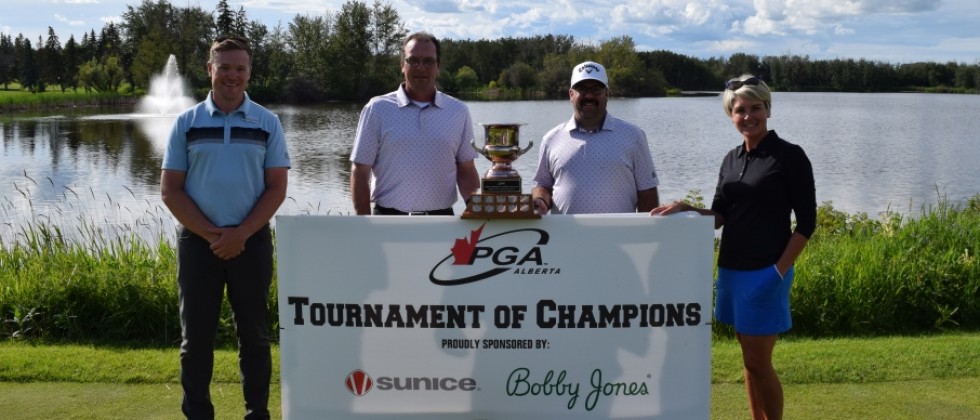 Tournament News
Country Hills GC Claims the 2020 Tournament of Champions
The annual Tournament of Champions sponsored by Sunice / Bobby Jones saw some great weather and a mint condition Glendale G&CC giving players a first class golf experience from start to finish!
Coming away with another Tournament of Champions win was the team of Country Hills GC, winning the title through retrogression over Picture Butte GC at 5-under 67. Professional Kurtis Foote and his 2019 Club Champion Kevin Temple played bogey-free golf while sinking five clean birdies, one of which on the final hole, to claim this year's title. Country Hills GC previously won the Tournament of Champions back in 2015 and 2016.
Finishing at 5-under 67 as well placing in 2nd after retrogression was the team that hailed from southern Alberta Picture Butte GC. Professional Jamie Gerlitz and partner Kris Wasylowich made a huge eagle on hole 17 to move to 6-under however their only blemish on the day came on hole 18 after making bogey to open the door for Country Hills GC.
In a four-way tie for third place at 4-under 68 was the teams from The Winston GC (Scott Anderson and Dave Stuart), Broadmoor GC (Corey Strong and Jodi Kirchner), Miskanaw GC (Jason Vaughan and Ryan Coish) and Edmonton CC (Greg Kincade and Brock Crosson).

Thank you to our Title Sponsor Sunice / Bobby Jones for the continued support of the Association and host venue Glendale G&CC for putting on a first class event.