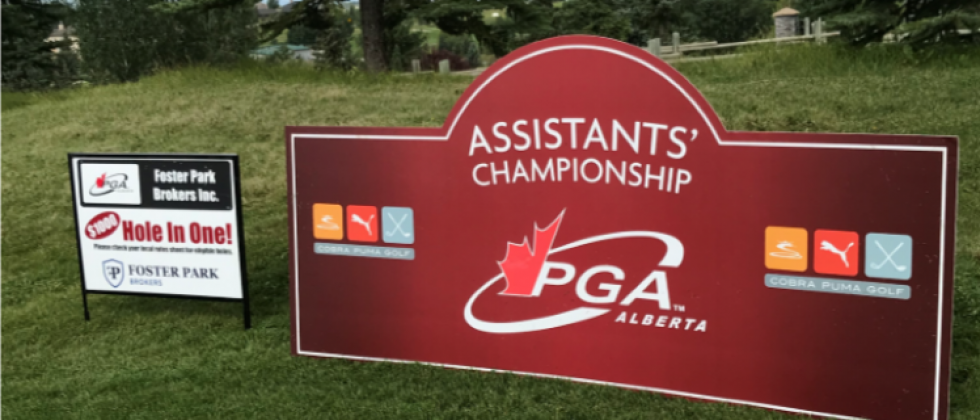 Tournament News
Fukushima on Fire at Assistants' Championship
Round 1 of the Cobra Puma Golf Assistants' Championship at the picturesque Lynx Ridge GC saw beautiful conditions to start the day but rainy weather as the day progressed for the 62 Competitors.

Leading the charge was Kent Fukushima (Redwood Meadows G&CC) who was dialed in all day and carded a fantastic 7-under par 64 to hold the Clubhouse Lead after Round 1. Riley Fleming (NGA Dome) was hot on his trail shooting a stellar 5-under par 66 to sit in sole possession of 2nd. Holding onto sole possession of 3rd was Blaine Kruger (Stony Plain GC) who had a solid round carding a 3-under par 68.

Wes Heffernan (Dynamic Motion Golf Performance Centre) holds sole possession of 4th place carding a 2-under par 69 to remain within striking distance of the leaders. David MacComb (Blackhawk GC) and Dillion Batsel (Desert Blume GC) both carded 1-under par 70 to sit tied for 5th. Matthew Mah (Mill Woods GC) shot even-par 71 to hold sole possession of 6th.

Jeremy Lavallee (Royal Mayfair GC), Spence Laurie (GOLFTEC Calgary Midnapore) and Samuel Kirkness (Priddis Greens G&CC) all carded 1-over par 72's to remain in contention with low rounds' needed tomorrow to pressure the top of the Leaderboard.

Round 1 Score & Round 2 Draw – Click Here

Round 2 starts bright and early tomorrow morning at 8am sharp. The top grouping of Fukushima (-7), Fleming (-5) and Kruger (-3) tee it up at 11:20am. Follow your local or favourite Assistant on our online scoring page through the PGA of Alberta Twitter page to see how the action unfolds!

All media are invited to attend the Championship as guests of the PGA of Alberta. Please contact Tournament Manager Trevor Rioux for more information, [email protected].





About Cobra Puma Golf...
Cobra Puma Golf has been a Champion Partner of the PGA of Alberta for over 11 years and has supported the coveted Assistants' Championship since 2012 in addition to supporting the PGA of Alberta Buying Show and Golf Shows. In addition to Sponsoring the Championship, Cobra Puma Golf is also the Official Sponsor of the Alberta Head Pro & Assistants' Teams that go on to represent the zone at the National Championships later in the season. For any questions regarding Cobra Puma Golf products in Alberta, be sure to contact Alberta Rep Rick Lea ([email protected]).