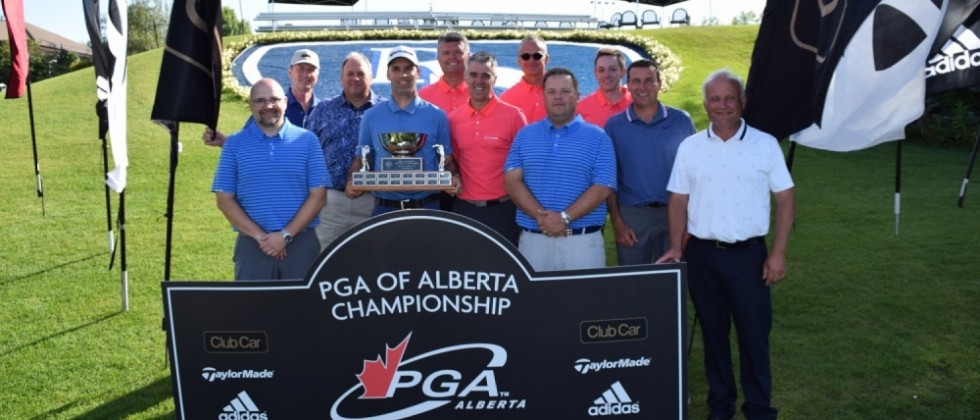 Tournament News
Heffernan Hangs On to Win PGA of Alberta Championship
Ninety of Alberta's top Professionals tee'd it up again today for Round Two of the PGA of Alberta Championship at the picturesque River Bend G&RA. This Championship is proudly Sponsored by long-time Partner's, Club Car, TaylorMade Canada & adidas Golf. River Bend G&RA did an unbelievable job having the course in such great shape and hosting such an amazing event.

It was a crazy day on the Leaderboard as players were moving up and down positions throughout the front nine. Play stabilised somewhat on the back nine as our Champion Wes Heffernan (Dynamic Motion Golf Performance Center) distanced himself and only had one competitor remain within striking distance throughout the round.

Heffernan started the day in the lead after breaking the Course Record for Round One with a 9-under 63 and after some slight hiccup's through the first 5 holes, Wes was able to put the pedal to the floor again and run away from the pack. Going eagle-birdie-birdie through holes 8, 9, and 10, Wes created a comfortable cushion for the remainder of his round to finish the Championship with a ridiculous two-day total of 130 (14-under).

In Second Place, with a great tournament total of 134 to finish 10-under par was David MacComb (Blackhawk GC) who kept things interesting all day keeping some heat on Wes at the top and forcing him to keep up his amazing play.
Tied for Third was Kent Fukushima (Redwood Meadows G&CC) (69,69), Dallas Cantera (Cardiff G&CC) (66,72) and Craig Gibson (Sirocco GC) (68,70) who all played stellar golf through both rounds shooting tournament totals of 138.

Sharing possession of Sixth with tournament totals of 139 was Matthew Mah (Mill Woods GC) (67-72), Keith Whitecotton (The Quarry) (67-72), Samuel Kirkness (Priddis Greens G&CC) (70-69) and Defending Champ Riley Fleming (NGA Dome) (68-71) who all played consistently solid golf over both rounds and helped keep things exciting on the top of Leaderboard.

With 28 players finishing Even-par or better it was a truly exciting and highly contested Championship that left everyone sitting on the edge of their seats. Competitors at the top were battling for the highly coveted spots on the Alberta Assistants' team which added another dimension of excitement to the round. The Alberta Assistants' Team will be announced shortly.

Click here for final results.