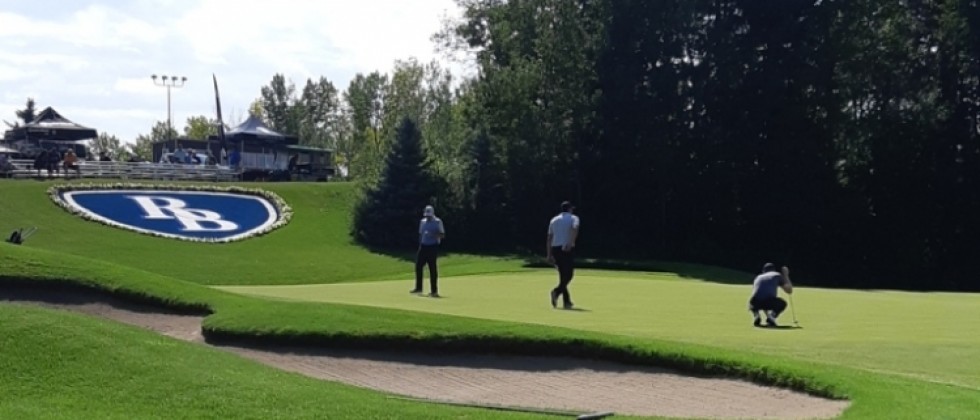 Tournament News
Heffernan Sets Course Record in Round 1 of PGA of Alberta Championship
Ninety of Alberta's top Professionals tee'd off at the PGA of Alberta Championship for Round One at the stunning River Bend G&RA for the third consecutive year in a row, proudly Sponsored by long time PGA of Alberta partner's, TaylorMade - Club Car - adidas Golf. River Bend G&RA should be commended for having the course in such great shape, leaving competitors set up to play aggressive and go low. Conditions were consistent throughout the day setting up a packed Leaderboard for an exciting Round 2 tomorrow.

Wes Heffernan (Dynamic Motion Golf Performance Center) came out firing today and carried on his torrid pace of late setting a new course record in the process and finishing Round One in sole possession of First, posting a ridiculous score of nine-under 63. Wes weighed in on his Round 1 with "I played really well today, every facet of my game was on and it came together really nicely and I did not even have my eight iron".

On Wes' tail tied for Second Place at 6-under 66 includes David MacComb (Blackhawk GC), Jeff Cuthbertson (Stony Plain GC), Dallas Cantera (Cardiff G&CC) and Eric Locke (Priddis Greens G&CC), who all played great consistent golf today to be within striking distance of Wes.

Matthew Mah (Mill Woods GC) and Keith Whitecotton (The Quarry) both had solid consistent rounds today, carding 5-under par 67 to share possession of Sixth place respectively and remain within striking distance of the leader and pack.

Defending Champion Riley Fleming (NGA Dome), Dustin Risdon, Craig Gibson (Sirocco GC) & Gary Hartford (Highlands GC) all carded 4-under par 68 today to share possession of 8th and remain in contention for tomorrow with low rounds needed.

Sharing possession of 12th place is a group of 4 players; Kent Fukushima (Redwood Meadows G&CC), Dillon Batsel (Desert Blume GC), Braden Chown (Desert Blume GC) and Darrell McDonald (Mill Woods GC) all carded 3-under par 69's to keep some pressure on the competitors above them on the Leaderboard.

Seven competitors are sharing possession of 16th place at 2-under par 70; Garett Jenkinson (Golf Performance Canada at Elbow Springs), Josh Fleming (GOLFTEC Calgary Beacon Heights), Sam Kirkness (Priddis Greens G&CC), Mark Corrigan (Concierge Golf), Weston Gillett (Lacombe G&CC), Spencer Vandermey (Edmonton Petroleum G&CC) and Nick Vandermey (Windermere G&CC).

The players are in store for a competitive and exciting Second Round as there are 31 players who are all even-par or better and all have the ability to go low and put some pressure on the leaders. Championship Day will be everyone trying to catch our leader Wes Heffernan and make for an extremely exciting finish. Be sure to watch from the Beer Gardens looking onto the 18th green!

Click here for Round 1 results and Round 2 draw

Round two will resume tomorrow morning (Tuesday, August 20th) at 7:30am. Final group of Heffernan, Cantera and Cuthbertson will tee off at 12:20pm. Players will have a chance to improve upon their Round One scores as the weather forecast is calling for warm weather and minimal wind tomorrow.
Follow the @PGAofAlberta on Twitter for live scoring updates tomorrow or follow along on the live scoring Leaderboard to see all the changes in real time!!