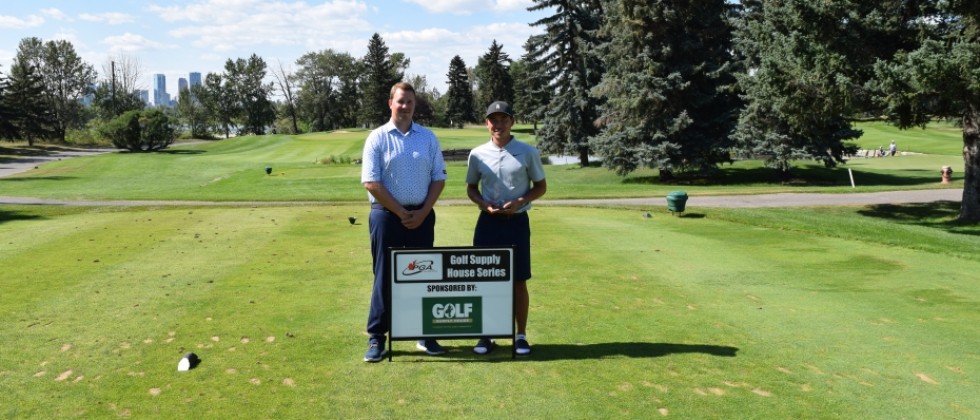 Tournament News
Batsel Blazes His Way To Victory at G.S.H. Inglewood G&CC
After a perfect day of weather at the beautiful Inglewood G&CC, Dillon Batsel (Desert Blume GC) rose to the top of our crowded Leaderboard at the fifth Golf Supply House Series event of the season. Today's event had a healthy field of 65 professionals who were treated to an immaculately conditioned course in outstanding shape.
Dillon carded a scorching 8-under 63 today to prevail over his nearest competitor by 1-stroke. Dillon came out firing with 5 Birdies on the Front-9 for an excellent 32. He then followed it up by playing bogey-free and knocking in another 4 Birdies on the Back-9 to card 31. This marks Dillon's first victory of the Season after a few near misses at earlier events where he was battling at the top.
Finishing in solo Second place was: Mitchell Fox (Speargrass GC) after shooting an awesome round of 7-under 64. Mitchell carded 33-31 and went blemish free for the round while having 7 Birdies on the card today.
Finishing in solo Third place was: Scott Stiles (Earl Grey GC) after shooting a stellar round of 4-under 67. Scott carded 35-32 and had 5 Birdies on the card today.
In a 6-way tie for Fourth place, all carding great rounds of: 3-under 68's, was: Weston Gillett (Lacombe G&CC), Jordan Fenwick (GOLFTEC Calgary Mindapore), Tyler Lebouthillier (GOLFTEC Calgary Beacon Heights), Craig Gibson (Sirocco GC), fresh off his Pro-Junior victory last Thursday, Braden Chown (Bearspaw GC) and finally, one of our Host Professional's, Jason Stanier (Inglewood G&CC).
Rounding out our Top-10 today, in a 3-way tie for Tenth place, all carding solid rounds of: 2-under 69's was: Eric Locke (Priddis Greens G&CC), Dustin Risdon (Dustin Risdon School of Golf) & Nick Vandermey (Windermere G&CC).
Congratulations to our Skins Winners today of: Josh Fleming (GOLFTEC Calgary Beacon Heights) with an Eagle on #6, Randy Robb (Mickelson National Golf Academy) with an Eagle on #11 & finally, Weston Gillett (Lacombe G&CC) with an Eagle on #16. Congratulations to all players that earned a cheque today.
Thank you to our Sponsor: Golf Supply House, who make events like this possible!