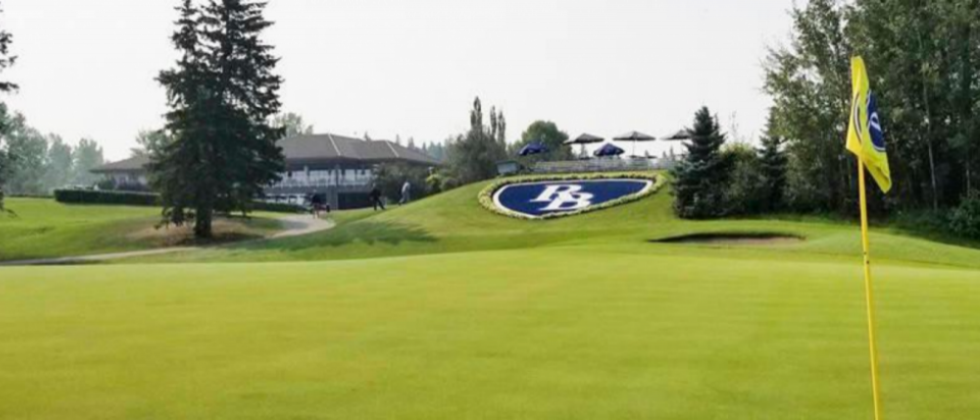 Tournament News
Batsel Bulls His Way to Top at PGA Championship at Riverbend G&RA
98 of Alberta's top Professionals' tee'd off at the fifth consecutive PGA of Alberta Championship hosted at the picturesque and always welcoming River Bend G&RA, proudly Sponsored by PGA of Alberta partners: TaylorMade Golf, adidas Golf and our proud new partner, WizGolf.
River Bend G&RA is in excellent shape, leaving our competitors with the opportunity to play aggressive and go low. Conditions were good throughout the morning and early afternoon before the rain moved in for the tail end of the field. We have an exciting Leaderboard set for Round 2 tomorrow, with 35 players even-par or better.

Dillon Batsel (Desert Blume GC) came ready to play today and is our Clubhouse Leader after Round 1. Dillon has been on a run of excellent tournament finishes of late, winning last week's event and placing highly in multiple others. Dillon carded an excellent 3-under par 33 on the front-9 with 4 Birdies. He then followed it up with an outstanding 5-under par 31 on the back-9 with 1 Eagle and 4 Birdies. Dillon holds a 2-stroke lead over his nearest competitors going into Round 2 tomorrow.
Breathing down our Leader's neck, in a two-way tie for Second Place after carding great 6-under par 66's today is: Scott Stiles (Earl Grey GC) & our Defending Champion, Riley Fleming (Lynx Ridge GC). Scott put together a blemish free round today, firing 33 on the front and back with 6 Birdies on the card. Fresh off his PGA Championship of Canada victory at the start of August, Riley put together a great round today. He carded a front-9 score of 4-under par 32 and followed it up with a 2-under par 34 with 8 Birdies on the card. Both will look to go low tomorrow and heap some pressure onto Dillon.
In sole possession of Fourth Place on our congested Leaderboard today is: Weston Gillett (Lacombe G&CC) who is still in the hunt and only sitting back by 3-strokes on our Leader. Weston carded a great 5-under par 67 shooting an outstanding 5-under par 31 on the front-9 which he followed up with a 36 on the back-9. Weston had 7 Birdies on the card today.
In a 3-way tie for Fifth Place, still in contention but needing low round's tomorrow, after all carding opening Round 1 scores of: 4-under par 68's is: Former Champion, Mike Belbin (Royal Mayfair GC), this season's Pro-Lady South Champion, Stefan Cox (Calgary G&CC) and Former Champion, Wes Heffernan (Dynamic Motion Golf Performance Centre).
Rounding out our Top-10, in a 4-way tie for Eighth Place, after all carding Round 1 scores of: 3-under par 69's is: Mitchell Fox (Speargrass GC), Jared Nicolls (Heritage Pointe GC) & Eric Locke (Priddis Greens G&CC) & finally, David MacComb (Royal Mayfair GC). Mitch, Jared & Eric all carded 33-36 with Mitch having 4 Birdies on the card, Jared also with 4 Birdies and finally, Eric with 6 Birdies. David carded 32-37 with 7 Birdies today.
In a 6-way tie for Eleventh Place, after all carding solid Round 1 scores of: 2-under par 70's is: Jason Stanier (Inglewood G&CC), Dustin Risdon (Dustin Risdon School of Golf), Jeremy Maher (Modern Golf), Host Professional Phil McCluskey (River Bend G&RA), Kevin Black (Redwood Meadows G&CC), Dallas Cantera (Cardiff G&CC).
Rounding out our Top-20 today, in a 7-way tie for Eighteenth Place, after all carding respectable Round 1 scores of: 1-under par 71's is: Scott Anderson (Winston GC), Grant Numrich (Red Deer G&CC), Evan Van Amsterdam (Highlands GC), Todd Halpen (Golfuture YYC), Adam Bruce (Leduc GC), Kent Fukushima (Redwood Meadows G&CC) and lastly, Samuel Kirkness (Inglewood G&CC).
11 more players are residing at even-par 72 after Round 1 and will need to go low quickly tomorrow to have a hope at catching our Leader at the top. Championship Day will be everyone trying to catch our Leader, Dillon Batsel and make for an extremely exciting finish. Be sure to watch from the bleachers above and looking down onto the 18th green! Round two will resume tomorrow morning (Tuesday, August 20th) at 7:30am. Final group of Batsel, Fleming & Stiles will tee it up at 12:02pm.
Congratulations to our Day 1 Skins winner: Mike Belbin (Royal Mayfair GC) who had the sole Skin of the day with an Eagle on #1.
Click here for Round 1 results.
Follow along on the live scoring Leaderboard once Round 2 begins (click here) to see all the changes in real time!