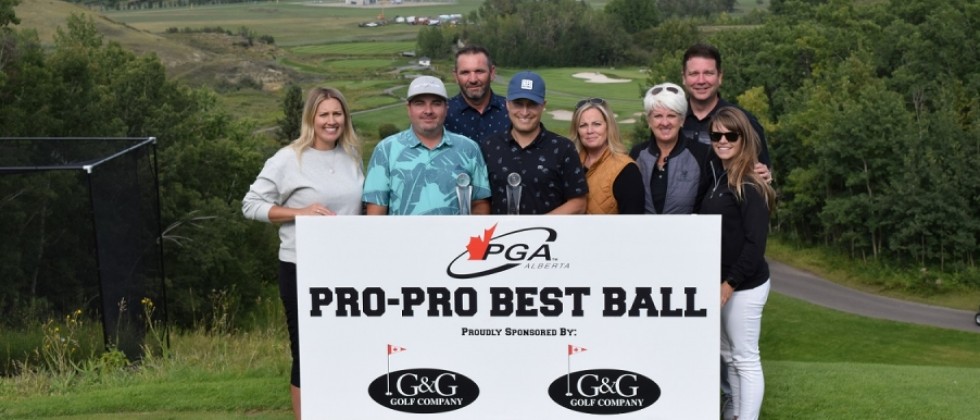 Tournament News
Fox & Manz Take Home The Hardware at G&G Pro-Pro Best Ball at Heritage Pointe GC
Today saw the Pro-Pro Best Ball Events sponsored by G&G Golf Company, hosted at the immaculate and pristine conditioned Heritage Pointe GC. Our competitors enjoyed an amazing day on the course with the summer weather returning and some excellent scores on the Leaderboard! We had a massive field of 52 teams encompassing 104 total players in the Main-Draw.
Our Winning team today was: Mitchell Fox (Speargrass GC) & Jacob Manz (Speargrass GC) who carded an absolutely scorching 10-under par 62 with a ridiculous 7 Birdies & 1 Eagle on the front-9 for an 8-under par 28 and followed it up on the back-9 going 2-under par for a total of 34.
In sole possession of Second Place was the team of: Riley Fleming (Lynx Ridge GC) & Cullen Wanvig (Winston GC) who carded an outstanding 8-under par 64 going 34-30 on the front and back 9's respectively with 7 Birdies and 1 Eagle on the card today.
In a three-way tie for Third Place was the teams of: Matt Freeman & Brady Karlson (Canyon Meadows G&CC), Josh Fleming & Tyler LeBouthillier (GOLFTEC Calgary Beacon Heights) & Darrell McDonald (Mill Woods GC) and Brent Chapman (Northern Bear GC) who all carded excellent rounds of 7-under par 65's today.
In a three-way tie for Sixth Place was the teams of: Scott Smith (Pinebrook G&CC) & Wes Heffernan (Dynamic Motion Golf Performance Centre), Phil McCluskey (River Bend G&RA) & Dale Tomlinson (Winston GC) and Stefan Cox (Calgary G&CC) & Matthew Mah (Cardiff G&CC) who all carded great rounds of 6-under par 66's today.
Rounding out our Top-10, in a three-way tie for Ninth Place was the teams of: Host Professionals, David Robinson & Jared Nicolls (Heritage Pointe GC), Bryce Halverson (Valley Ridge GC) & Craig Gibson (Sirocco GC) and Jeff Cuthbertson (Stony Plain GC) & Jeff Murdoch (PGA of AB Member) who all carded solid rounds of 5-under par 67's today.
Thank you to our Sponsor: G&G Golf Company & Host Facility, Heritage Pointe GC for putting on such an incredible event!