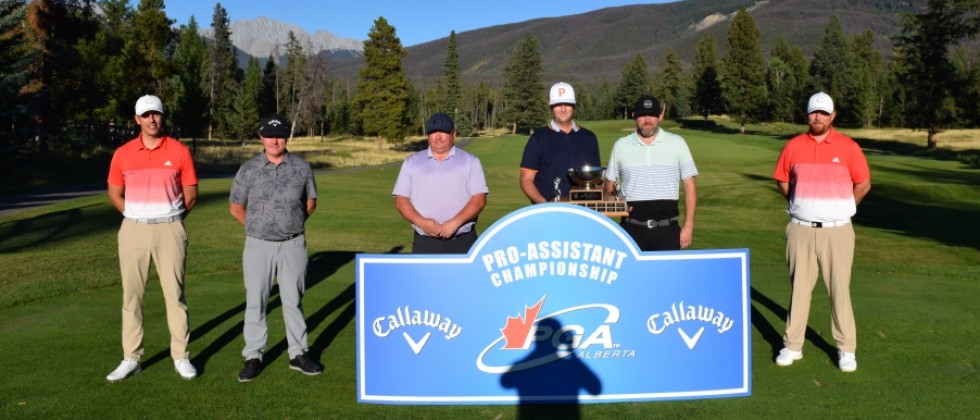 Tournament News
Modern Golf Mauls the Competition at the 2020 Pro-Assistant
Round Two of the Pro-Assistant at the spectacular Jasper Park Lodge GC and sponsored by Callaway Golf was a huge success. We had a packed field of 50 teams and 100 Professionals playing in an exciting format of six holes in rotation of Scramble, Scotch Ball & Best Ball to finish. We saw a continuation of the excellent summer conditions for our competitors today which contributed to the elated atmosphere of all our competitors.
Congratulations to our Champions today who hail from Modern Golf (Jeremy Maher & Craig Dale) who put together two exceptional rounds of golf and carded unreal 8-under par 63's both days to finish the tournament at a staggering 16-under par!
In Second place was the team of Cardiff G&CC (Dallas Cantera & Matthew Mah) who kept things tight with our champions all day and helped keep things interesting for the last few holes. Team Cardiff G&CC played excellent golf for both rounds carding 63 and 65 today to finish the tournament at 14-under.
In a two-way tie for third was the teams of Calgary G&CC (Stefan Cox & Tom Greiner) and Windermere G&CC (Brice MacDermott & Cam Martens) who each put together two great rounds of golf to finish 12-under total.
In sole possession of fifth was the team of Sundre GC (Scott Shouldice & Corey Beaver) who finished at 11-under. In sixth place was the team of Speargrass GC (Jacob Manz & Mitchell Fox) who finished at 10-under.
Congratulations to Dallas Cantera for winning the closest-to-the-pin competition today on the par 3 fifteenth hole with an excellent shot that was 2 feet from the pin.
Special thanks to Jasper Park Lodge GC and Callaway Golf for helping make another excellent event happen!