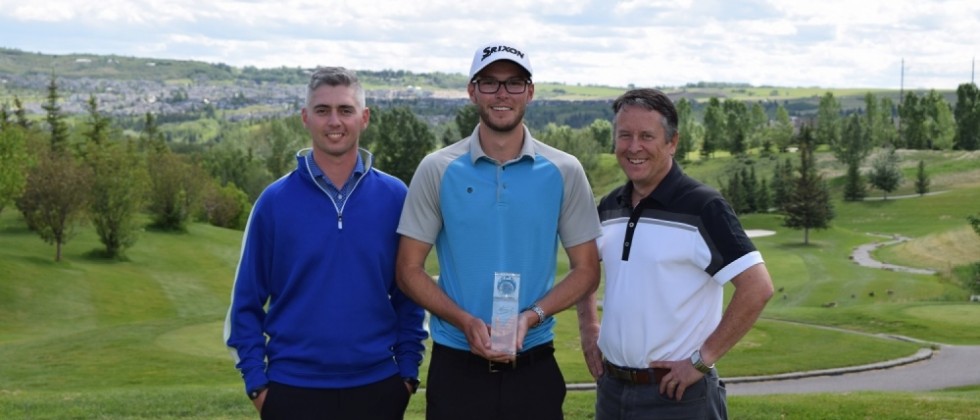 Tournament News
Fleming Challenged by Heffernan at the Lynx
The warm weather and ideal course conditions for round two made for a perfect day at Lynx Ridge GC as 55 competitors battled it out to win the first two-day event of the Golf Supply House Series.
Starting the day at 4-under, Riley Fleming (NGA Dome) was able to maintain his day one lead over the rest of the competition. Riley finished round two with a 6-under 65 finishing with two birdies on the last three holes to claim his third victory of the season with a 67-65-132. Wes Heffernan (Golf Canada Centre) was able to climb his way up the leaderboard to capture sole possession of second place as he followed up his impressive round one with an eagle on 16 which put him only three strokes back at 71-64-135.
Finishing in a two-way tie for third place was Dillon Batsel (Connaught GC) and Nicholas Vander Mey (Windermere G&CC) who both finished the tournament with a total of 139. Finishing in sole possession of fifth place was Dustin Risdon (NGA @ McCall Lake) who finished with a two-day total of 140 and fought to the very end with a birdie on 18.
The next Golf Supply House Series event on the schedule is at Jagare Ridge GC in Edmonton on June 18th which will see approximately 50 of the top Professionals in Alberta.
Today the PGA of Alberta is comprised of over 550 Golf Professionals who are Leaders in Golf. We are Teachers, Managers, Merchandisers, Mentors, Promoters, Players and Ambassadors. We provide Instruction to all golfers, Leadership for all golf environments and the Expertise necessary to handle any situation. Our livelihood is Golf. Whatever Golf means to you.