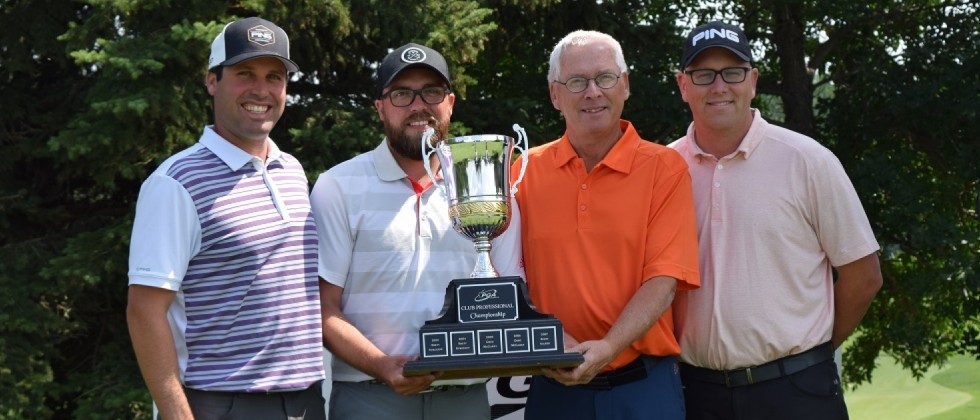 Tournament News
Gerlitz Runs Away With It
Round two of the Club Pro Championship saw an excellent start to the day with minimal wind and beautiful weather. The favourable playing conditions helped encourage low scores as the players started off in the morning. As the day progressed the wind began to slowly pick up making things a bit more difficult with its swirling inconsistencies for the field of 46 competitors.

Starting the day off with the outright lead was Jamie Gerlitz (Picture Butte GC) as he was sitting at a 1-under 71. Maintaining his consistent round one play Gerlitz was able to improve upon his opening round score by coming into the clubhouse at 2-under 70 which put him at a two-round total of 3-under 141, cementing his victory at the first Championship of the season. Jamie had an excellent round as he posted 10 pars and 5 birdies which separated him from the rest of the pack. In a two-way tie for second place was Josh Fleming (GolfTEC Calgary Beacon Heights) and Jeremy Maher (Valley Ridge GC) who were both able to finish with a two-round total of 3-over 147. In a three way tie for fourth place was Scott Allred (Elbow Springs GC), Craig McArthur (Blackhawk GC) and Darryl James (NGA @ Shaganappi) who all finished with a 5-over 149 through the two days at Innisfail.

Finishing in sole possession of 7th place was Jeff Cuthbertson (Stony Plain GC) who shot a two-round total of 150. Close behind Jeff in a three-way tie for 8th place was Dale Tomlinson (The Winston GC), Mike McEvay (Goose Hummock GR) and Jason Stanier (Inglewood G&CC) who all posted scores of 151.

The next Championship event on the schedule is at The Ranch G&CC in Edmonton, Alberta on August 7th & 8th which will see approximately 60 of the top Professionals in Alberta.