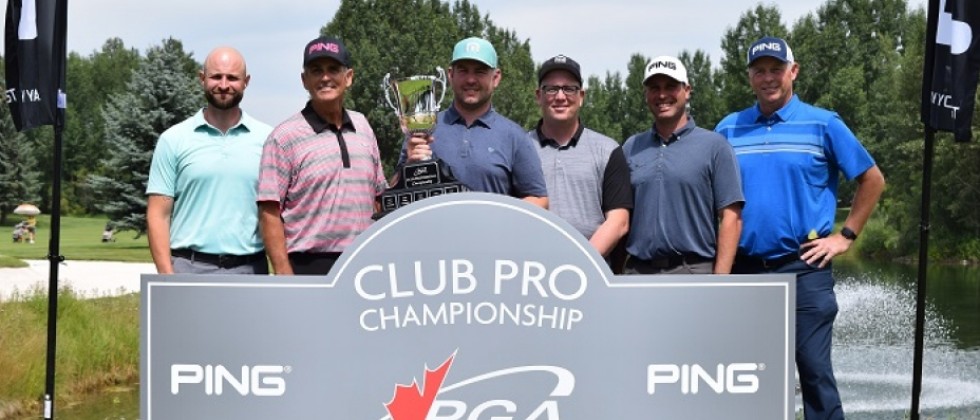 Tournament News
Borsa Brings it Home at PING Club Pro Championship
Round two of the PING Club Pro Championship at the beautiful Elbow Springs GC saw an excellent start to the day with minimal wind and blue bird skies. The favourable playing conditions helped encourage low scores as the players started off in the morning at 8am sharp. With plenty of changes at the top of the leaderboard throughout the day everyone was sitting on the edge of their seat waiting to see what happened.

Elevating his play in Round 2 was Scott Borsa (Devon GC) who was able to improve his solid opening round score of even par 72 by entering the clubhouse as the leader with a 3-under 69. This put him at a two-round total of 3-under 141. Scott had an excellent round today as he posted 9 pars and 6 birdies which led him to a playoff.

Scott Allred (Elbow Springs GC) needed a birdie on hole 18 to force a playoff and came through with a clutch putt. Borsa and Allred battled out the playoff on the Mountain course. Both hit solid tee shot's giving themselves an opportunity to reach the green in two. Borsa had a slightly more favourable lie which allowed him to hit an iron in and leave himself a look at eagle. Allred had a tough lie on a downslope and ended up with a 15-foot chip from the left side of the green for his eagle. Borsa two-putted for birdie putting the pressure on Allred who hit a good chip but got an unlucky heavy bounce which left him needing to make a 20-foot putt. Allred lipped out and couldn't get it to drop giving Scott Borsa his first win of the season.

Phil McCluskey (River bend G&RA) finished in sole possession of 3rd place and played steady golf all day helping keep some heat on the top of the leaderboard. He was able to finish with a two-round total of 2-under 142.

Last year's defending Champion Jamie Gerlitz finished in sole possession of 4th place shooting a solid round one score (70) and followed up with a round two 73 on for a total of 1-under 143.

Finishing in a three way tie for 5th place was Jeff Cuthbertson (Stony Plain GC) 74-70, Dallas Cantera (Cardiff G&CC) 74-70 and Jeff MacGregor (Inglewood G&CC) 72-72 all shooting a two-day total of 144.

The next Championship event on the schedule is the Assistants' Championship at Lynx Ridge GC on August 6th & 7th which will see the top Assistant Professionals in Alberta battle it out.