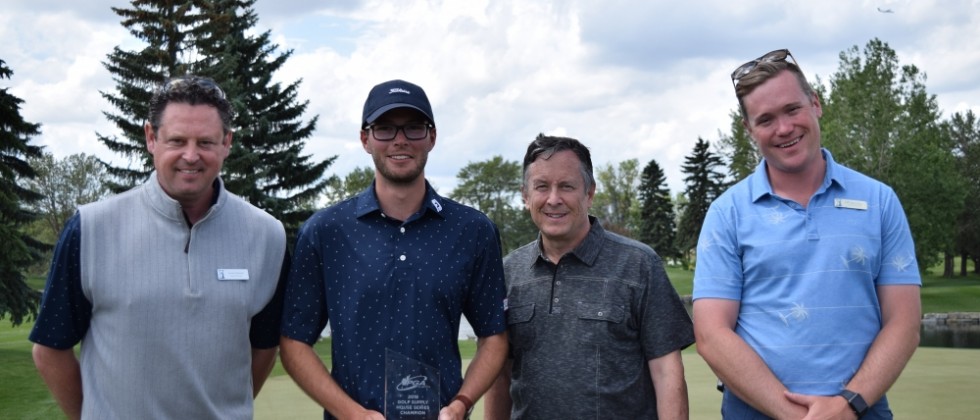 Tournament News
Fleming Flies to the Top at Inglewood G&CC
Round 2 saw beautiful playing conditions at Inglewood G&CC for all competitors as the sun was shining and the course being in great shape. The players dueled impressively for a chance to win the 2-day event of the Golf Supply House Series with a hefty $13,000 purse up for grabs.

Starting the day at 6-under (65) was Riley Fleming (NGA Dome) and last week's 2019 PGA Championship of Canada winner, Dustin Risdon (The Players Shack) as they created a little separation between themselves and the stacked field. Fleming and Risdon were able to pull away from the field carding a 3-under (Fleming) and 2-under (Risdon) on the front 9. Starting the back 9 with a birdie, Dustin drew even with Riley and set up a great battle for the rest of the way in. With the players neck and neck on the 13th, Riley managed to birdie and never looked back. With birdies on three of the last four holes Riley finished with the pedal to the floor for an amazing 8-under (63), for a total of 128. Dustin Risdon finished the day with a solid 3-under (68) to finish in Second with a total of 133.

Wes Heffernan (Dynamic Motion Golf Performance Centre) started the day at 4-under (67) and was able to sustain his steady play and create some breathing room between himself and the rest of the pack. Wes carded a solid 2-under on the front 9 to maintain some pressure on Fleming and Risdon going into the back. He then followed that up with another solid 2-under on the back 9 to finish with a 4-under (67) for a total of 134 and third place.

In fourth place was Dallas Cantera (Cardiff G&CC) who played steady golf over the two-days to finish the tournament with a total of 68-69-137. In fifth place was Tyler LeBouthillier (Lynx Ridge GC) after a two day score of 71-68-139.

Special shout out to Chris Cooke (Kananaskis Country GC) who got a Hole In One on the par 3 seventeenth which netted him a skin worth over $880!

Click here for full tournaments results.

Today the PGA of Alberta is comprised of over 500 Golf Professionals who are Leaders in Golf. We are Teachers, Managers, Merchandisers, Mentors, Promoters, Players and Ambassadors. We provide Instruction to all golfers, Leadership for all golf environments and the Expertise necessary to handle any situation. Our livelihood is Golf. Whatever Golf means to you. Keep swinging.