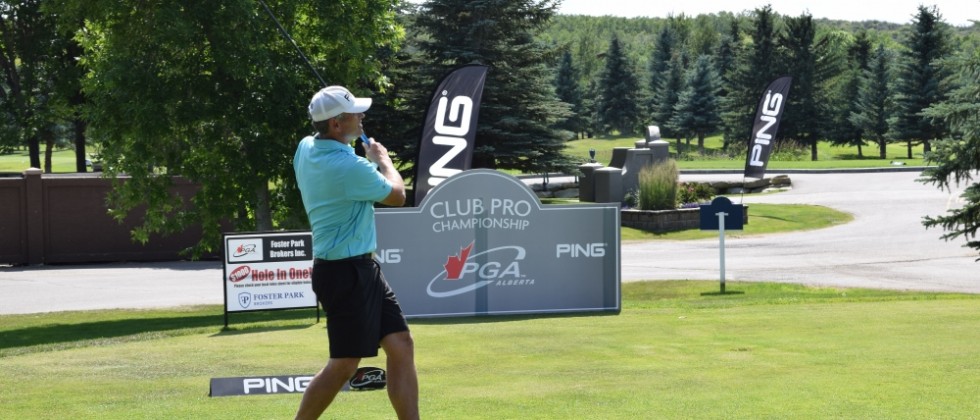 Tournament News
Freeman Flourishes at PING Club Pro Championship
Forty-five competitors tee'd off at the Club Pro Championship for Round 1 at Elbow Springs GC, proudly Sponsored by long-time PGA of Alberta partner PING Canada. Players were fortunate to have perfect playing conditions as temperatures reached 25+ degrees and minimal wind throughout the day.

Coming in dialed today was Matt Freeman (Canyon Meadows G&CC) shooting a stellar 4-under par 68 to be the tournament leader after Round One. Matt finished his final three holes at 3-under par with a birdie-par-eagle to sit in the lead going into Round Two.

Jamie Kureluk (GOLFTEC Calgary Mindapore) finished with a great round of 3-under 69 to sit in sole possession of second place and maintain some pressure on Freeman going into day two.

Keeping the heat on the top two in a two-way tie for third place is four time Club Pro Champion and Host Professional Scott Allred (Elbow Springs GC) and defending Champion Jamie Gerlitz (Picture Butte GC) who both are sitting in a great position heading into Round Two at 2-under 70.
Phil McCluskey (River Bend G&RA), Kevin Black (Redwood Meadows G&CC) and Ron Laugher (Priddis Greens G&CC) are all in the hunt after carding solid 1-under 71's to share fifth place between them.

The field is set for a competitive second round as there is a 5-way tie for eighth place with Mike McEvay (Goose Hummock GR), Cameron Gall (Highwood G&CC), Brian Bassen (Strathmore GC), Jeff MacGregor (Inglewood G&CC) and Scott Borsa (Devon GC), all within striking distance sitting at even par 72.

Round Two will resume tomorrow morning bright and early (Tuesday, July 30th) with an 8am crossover. Follow the @PGAofAlberta on Twitter for live scoring updates. Follow along on our online Live Scoring link here to follow your local Pro and to see the leaderboard as the day progresses.

Click here for Round 1 results and Round 2 draw

All media are invited to attend the Championship as guests of the PGA of Alberta. Please contact Tournament Manager Trevor Rioux for more information, [email protected].


About PING Canada...
PING has been a Champion Partner of the PGA of Alberta for over 14 years and has supported the Club Pro Championship since 2006 in addition to supporting the PGA of Alberta Buying Show and Golf Shows. PING is committed to being the unquestioned leader in innovation, design, service and quality. For any questions regarding PING products in Alberta, be sure to contact Sponsor representatives Colin Gilliard (Edmonton) or Ryan Bathgate (Calgary). Click here to learn more about the PING G410 Driver.