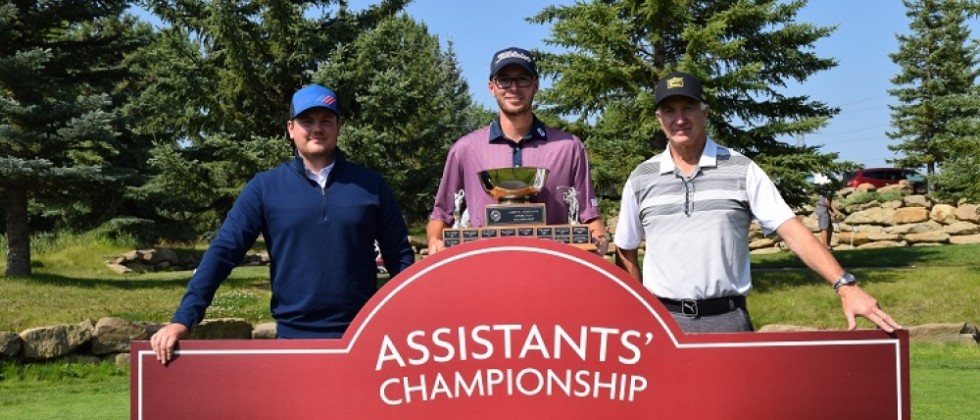 Tournament News
Riley Rises to the Challenge at Assistants' Championship
Round 2 of the Cobra Puma Golf Sponsored Assistants' Championship at the gorgeous Lynx Ridge GC saw rainy and gloomy weather to start the day but beautiful conditions as the later groups and leaders started their back nines.

It was an extremely exciting day as Riley Fleming (NGA Dome) and Wes Heffernan (Dynamic Motion Golf Performance Centre) distanced themselves from the field and battled it out all afternoon to see who would take the Championship home. Everyone including competitors were glued to the online leaderboard as Riley and Wes dueled it out.

Champion Riley Fleming had a great 3-under par 33 after 9 to sit at 8-under and two strokes off the lead. However, he raised his play to an even higher level on the back 9 and managed to card a stellar 4-under par 31 to finish the day at 7-under 64 and the tournament at a ridiculous 130 total. The turning point on the back 9 was hole 16 as Riley was able to make eagle and create 2 strokes of separation between himself and Wes.

Heffernan started the day off in another dimension as he tore up the front 9 with an out-of-this-world 8-under par 28, with birdies on the first 5 holes, an eagle on the 6th, birdie on the 7th and two pars to finish 8th and 9th to sit at 10-under par through 9. He had a solid back 9 going even par to finish the day at 8-under par 63 and the tournament at 10-under for a total of 132.

Holding onto sole possession of 3rd was Kent Fukushima (Redwood Meadows G&CC) who had a stellar 2 Rounds carding a 7-under par 64 on the first day and a 3-over par 74 for Round 2 for a tournament total of 138. Dillion Batsel (Desert Blume GC) finished in sole possession of 4th carding a 1-under par 70 on Day 1 and 71 for Round 2 for a tournament total of 141.

Eric Locke (Priddis Greens G&CC) (73, 69) and David MacComb (Blackhawk GC) (70, 72) ended tied for 5th with tournament totals' of 142. Blaine Kruger (Stony Plain GC) (68, 75) and Dustin Risdon (The Players Shack) (73, 70) ended tied for 7th both shooting tournament totals of 143.

After Riley's victory today, he has guaranteed himself a spot on the Alberta Assistants' Team which will be competing in the PGA of Canada Assistants' Championship hosted in Ontario on September 16-19.

Special thanks to our wonderful long time sponsor Cobra Puma Golf and the entire Lynx Ridge GC team for hosting a great event!

See full tournament results here.