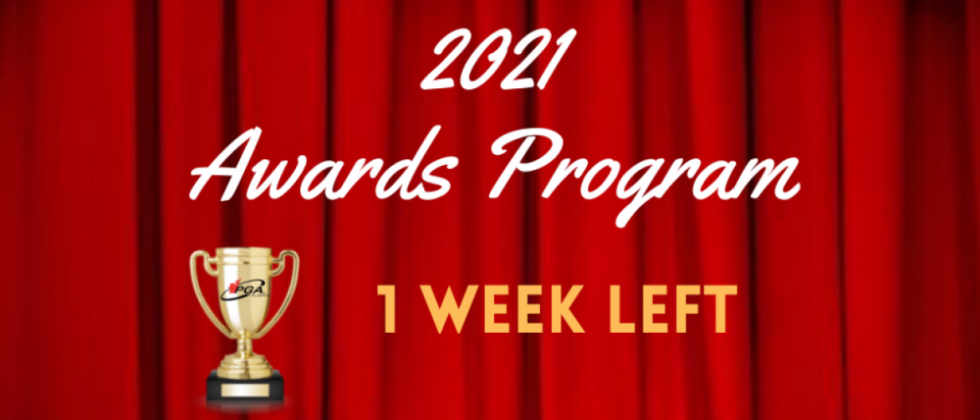 Awards News
2021 Awards Program - 1 Week Left to Nominate
There is now 1 week left to nominate a deserving Professional or Sales Representative for a PGA of Alberta Award in 2021. Nominations for all Awards will close at the end of day on Tuesday, Aug. 31st. Thank you to everyone who has already submitted a nomination.

Each year the PGA of Alberta recognizes several Members and Industry Representatives for their achievements throughout the season and their career, as well as for their contributions to the Association and the game of golf. We encourage all Members and industry affiliates to become a part of our Awards Program by nominating an individual or facility that you feel is deserving of an Award.

In total, nine Awards are up for nomination which include the following:
Apprentice Professional of the Year

Class "A" Professional of the Year

Club Professional of the Year

Executive Professional of the Year

Junior Leader of the Year

Teacher of the Year

Coach of the Year

Retailer of the Year

Sales Rep of the Year
Please note the following points for the 2021 Awards Program:
Video Bio - All members who are nominated for an Award will have the option to submit a short video bio in addition to their application form.
Nomination(s) – We encourage all PGA of Alberta Professionals and industry affiliates to nominate a deserving individual in each of the Award categories.
Awards Banquet - The 2021 PGA of Alberta Awards Banquet will reveal this year's recipients on Wednesday, Oct. 20 at the Calgary BMO Centre (after the second day of the Buying Show). Click here to register for the Buying Show.

Awards Criteria

-

Click Here

to see the criteria for each Award.

Coach of the Year Nominees must be certified within Golf's National Coach Certification Program Competition stream (Coach of New Competitors, Coach of Developing Competitors).
Teacher of the Year Nominees must have achieved certified status in at least one context within the instruction stream of the National Coaching Certification Program for Golf in Canada (Instructor of Beginner Golfers, Instructor of Intermediate Golfers, Instructor of Advanced Golfers).