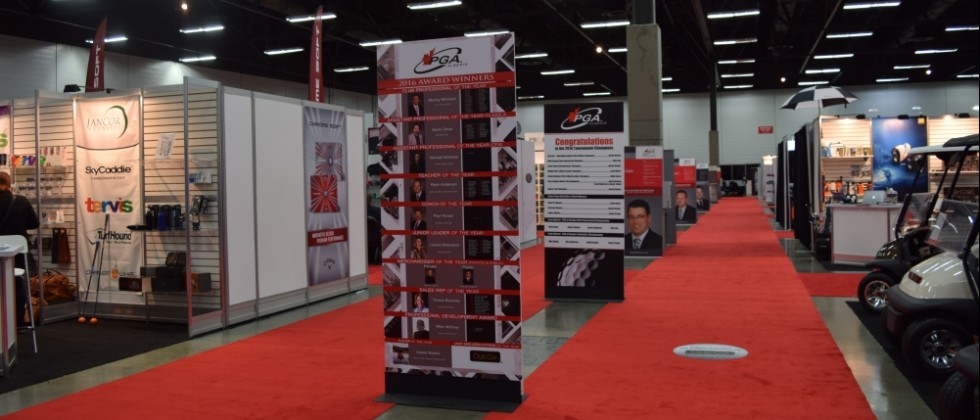 Buying Show News
PGA Buying Show Only 4 Months Away - Register Today!
The PGA of Alberta invites you and your staff to the annual Buying Show this year hosted on October 18–20 at the Calgary BMO Centre.

The Buying Show is your one stop shop for all your buying! Visit the Companies/Exhibitors in attendance and view hundreds of brands at one venue. In 2019, over 80 Companies attended the Show. Build relationships with top company Executives & your local Reps. Click here for the current Exhibitor list.

Complimentary Food & Beverage During the Show

Gordon Food Service will be offering complimentary food and beverage options for all Exhibitors and Attendees located in the 19th Hole (centre of the floor plan) for the entire 3-days of the Buying Show! This will help your facility save costs as well as gives you a chance to try their food and re-energize yourself while at the Show. You can also stop by their show booth to discuss all of your food service operation needs.

Invite Your GM, Owner & Food and Beverage Staff
With this dynamic partnership with GFS, remember to invite your General Manager, Facility Owner and Food & Beverage staff to the Show!

Preferred Hotel >> Hotels Arts Calgary - Host Venue of the Day 1 Cocktail Reception


Hotel Arts is the preferred hotel of the PGA Buying Show and only a 10-minute walk from the BMO Centre! Click Here for more info and booking link.