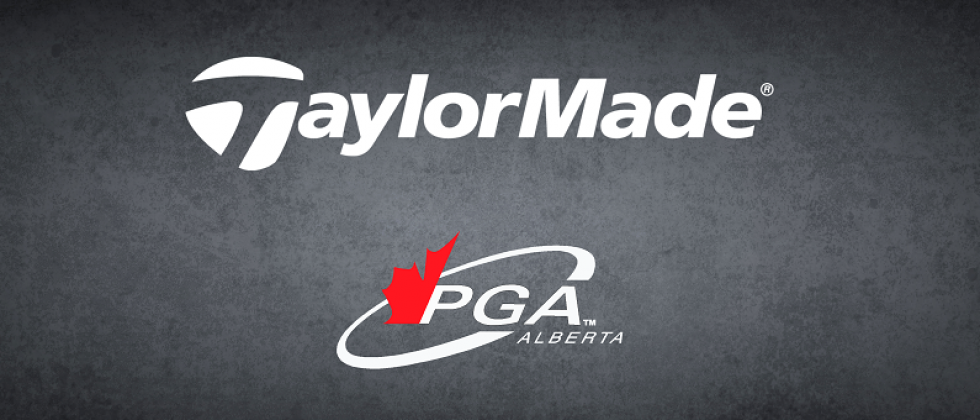 Partner News
TaylorMade Golf Canada Becomes Newest Presenting Sponsor of the Top 100 Program
The PGA of Alberta is excited to announce TaylorMade Golf Canada as the newest Presenting Sponsor of the Top 100 Program!

Launched in 2019, the PGA of Alberta Top 100 Program is based on pre-defined measurable criteria designed to recognize members who dedicate their time and proven abilities in advancing the Association's interests for the benefit of all Golf Professionals.

"TaylorMade Golf Canada is excited about the opportunity to partner with the PGA of Alberta Top 100 Program as a new way to connect and extend support throughout the zone, from new to established Professionals," said David Bradley, General Manager at TaylorMade Golf Canada. "The Top 100 Program resonated with us as TaylorMade can help encourage engagement and growth within the province, as well as each Professional career".

As part of this program, the PGA of Alberta acknowledges the Top 100 Professionals which are the top 100 point earners for each year of the program. These members are recognized as a "Top 100 Professional" and receive a custom Top 100 logo. Click here to view the 2021 Top 100 Professionals.

"The Top 100 Program in Alberta is a great program encouraging all PGA of Alberta Professionals engagement in many areas of the Association in an effort to advance the game of golf," said Shaun Piercey, Head Professional at The Ranch G&CC and TaylorMade Staff Player. "Golf Professionals thrive on competition and I believe this program has been very successful in increasing PGA of Alberta membership engagement as well as recognizing the numerous amazing and extremely dedicated Golf Processionals we have in our Zone".

Cash Prize Increase
With this new partnership, the PGA of Alberta will now be offering 20 cash prizes at the end of this program year valuing $8,200! The cash prizes will be awarded in October at the Buying Show Awards Banquet to the top 20 point earners for the program.

The annual Top 100 Award is given out to the member who accumulates the most points for the program year. Click here to view the current Top 100 standings! The new cash prize breakdown will be as follows:
| | |
| --- | --- |
| Place | Cash Prize |
| 1st | $1,400 |
| 2nd | $1,100 |
| 3rd | $900 |
| 4th | $700 |
| 5th | $525 |
| 6th | $400 |
| 7th | $325 |
| 8th | $300 |
| 9th | $275 |
| 10th | $250 |
| 11th | $225 |
| 12th | $200 |
| 13th | $200 |
| 14th | $200 |
| 15th | $200 |
| 16th | $200 |
| 17th | $200 |
| 18th | $200 |
| 19th | $200 |
| 20th | $200 |
New Cash Bonuses
In addition to the 20 cash prizes this program year, the Association will also giveaway 8 cash bonuses of $100 each to the top point finisher(s) in the below member categories (number of cash bonuses dependent on total number of members in the categories). This added amount puts the cash prize total at $9,000 for the Top 100 Program (cash prizes + bonuses).
Apprentice Professionals -

Top 2

Class "A" / Teaching Professionals -

Top 3

Head / Head Teaching Professionals -

Top 2

Executive Professionals -

Top 1
Please note that cash prizes and the Top 100 Professional initiative are still based off the overall standings and not by the member category standings. Click here for standings by membership category.

About TaylorMade Golf
Headquartered in Carlsbad, California, TaylorMade Golf is a leading manufacturer of high-performance golf equipment, golf balls, accessories. TaylorMade has a history of innovative industry-leading products such as the newly launched Stealth Carbonwood™ Driver, Stealth irons and Spider GT putters. TaylorMade's technological advancements touch all sectors of the golf industry with products like P Series irons, Milled Grind 3 wedges, TP5/TP5x golf balls.

A major force across the world's professional tours, TaylorMade has an athlete portfolio that includes Tiger Woods, Rory McIlroy, Dustin Johnson, Collin Morikawa, Tommy Fleetwood, Sergio Garcia, Rickie Fowler, Matthew Wolff, Scottie Scheffler, Brooke Henderson, Charley Hull, Maria Fassi and Sierra Brooks.

For more information on TaylorMade Golf Canada, please go to their website www.taylormadegolf.ca or contact their Representatives below:

Brian Howard Southern Alberta Territory Manager
T: 403-512-7927
[email protected]

Darren Evans Northern Alberta Territory Manager
T: 780-700-0676
[email protected]

Follow TaylorMade Golf Canada on social media today...