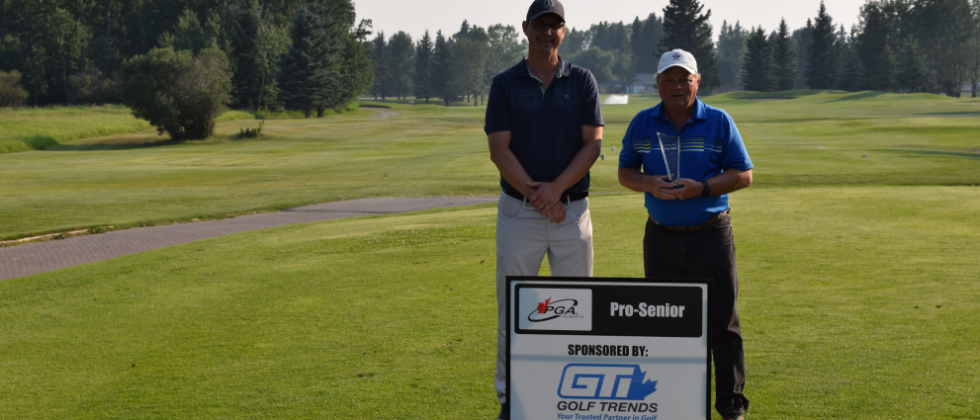 Tournament News
Halpen Hoists GolfTrends Inc Pro-Senior with Partner Newton at Turner Valley GC
Yesterday saw the second Pro-Am of the season hosted at the beautiful & pristine Turner Valley GC, sponsored by Golf Trends INC and was hugely successful. We had a massive field of 58 teams for a total of 116 competitors! The course was in outstanding shape and all the teams had an incredible experience at such a top-notch facility.

This year saw the event continue with the Team Net Stableford scoring format which kept things fun and exciting for the competition. The point allocation in this format is: 6 points for a Hole-in-One, 5 points for a Double-Eagle, 4 points for Eagle, 3 points for Birdie, 2 points for Par & 1 point for Bogey.

Our Champions were the team of: Todd Halpen (Golfuture YYC) & his partner Keith Newton who played an exceptional round to finish with 44 team points and won by retrogression! Todd carded an excellent score of 69, going 35 on the front-9 and following it up with a 34 on the back-9. Todd had 3 Birdies and 1 Eagle along the way. His partner, Keith Newton, carded a stellar 73 and chipped in with 4 timely birdies on their march to the Winners Circle.

In Second Place through retrogression was the team of: Chris Cooke (Silvertip GR) & Rick Guinn who also accumulated a superb 44 points today. Chris had a Birdie and an Eagle while Rick had an outstanding 6 Birdies on the card.

Finishing in Third through retrogression, also at 44 points was the team of: Jason Stanier (Inglewood G&CC) & Jim Saunders. Jason had a great 5 Birdies on the card and Jim pitched in with 3 timely Birdies of his own.
In solo Fourth, and finishing with a stellar 42 points was the team of: Matthew Mah (Cardiff G&CC) & Peter Blandy. Matt had 4 Birdies on the card and Peter chipped in with 4 Birdies of his own.
Rounding out our Top-5, also through retrogression and finishing with 41 points was the team of: Stefan Cox (Calgary G&CC) & Paul O'Donoghue. Stefan carded an excellent 67 with 5 Birdies on the card.
Special thanks to our host course of: Turner Valley GC for putting on such a top-notch event and to our Sponsor: Golf Trends INC. Without their continued support events like these would not be possible!
Click here for Money Payout Breakdown.