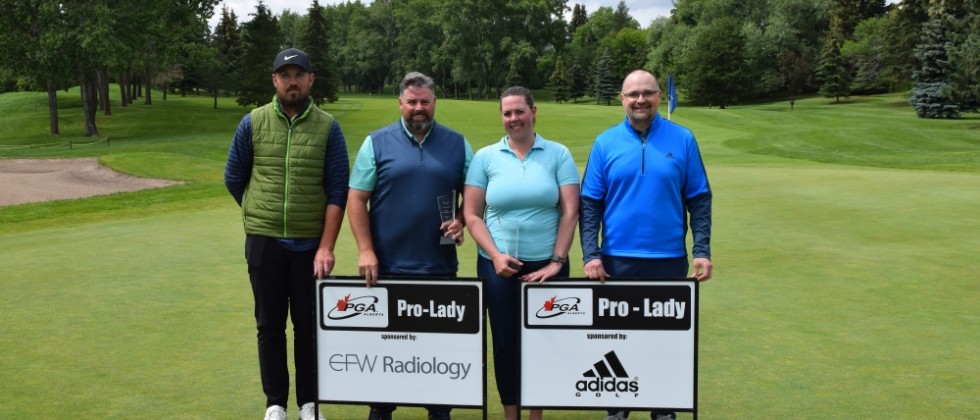 Tournament News
Glen and Kelsey DesRoche Take the Title at Broadmoor GC
Today saw the Pro-Lady North sponsored by EFW Radiology & adidas Golf head to the beautiful Broadmoor GC in Sherwood Park. The course was in great shape with some fantastic weather.

This year saw the event continue with the Team Net Stableford scoring format which kept things fun and exciting for the competition. The point allocation in this format is: 5 points for Double Eagle, 4 points for Eagle, 3 points for Birdie, 2 points for Par & 1 point for Bogey.

Our Champions this year are: Hailing from Picture Butte GC: Glen DesRoche & his wife Kelsey DesRoche who fired a superb round today to finish with 47 Stableford team points to win by 1! Glen lead the team with 7 birdies on the day with Kelsey scoring 3 net birdies and a net eagle.
In solo Second place, the team from Highlands GC, Gary Hartford and his partner Glenda Perry. Gary shot the low round of the day with a 66 to finish with a team total of 46 points.

Finishing in Third through retrogression, at 44 points was the team from Sturgeon Valley G&CC, Chris Toth and his partner Karen Morris.
In Fourth, also through retrogression and finishing with 44 points was the team from The Quarry: Keith Whitecotton and his partner Kim Whitecotton.
Rounding out our Top 5 today was the team from: Montgomery Glen GC, Mitch Buffalo and his partner Joan Tomma-Buffalo. They finished with a final team score of 43.
Special thanks to our host course Broadmoor GC for putting on such a top-notch event and to our Sponsors: EFW Radiology & adidas Golf. Without their continued support events like this would not be possible!
Click Here for Money Payout Breakdown