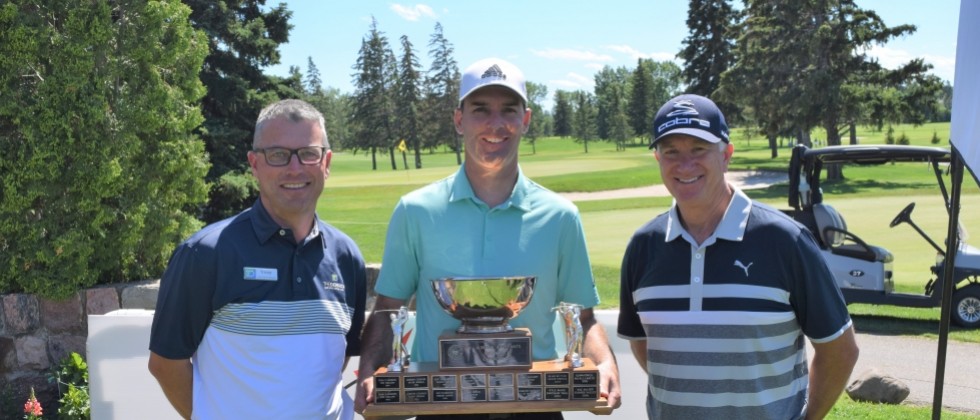 Tournament News
Heffernan Hauls in First Cobra Puma Golf Assistants' Championship at The Derrick G&WC
Today saw Round 2 of the Assistants' Championship sponsored by Cobra Puma Golf at the serene Derrick G&WC. The course continued to be in fantastic shape and the summer conditions were outstanding for our competitors.
The Leaderboard was jammed with Players jockeying to sit inside our Top-10 with plenty of great scores today but 1 player rose above the field to take home the 2022 Assistants' Championship after carding the new Course Record of 65 yesterday and only missing it by 1-stroke today again.
Continuing his incredible play this season was none other than: Mr. Wes Heffernan (Dynamic Motion Golf Performance Centre), fresh off his victory at the 2022 PGA of Canada of Championship. Wes carded an excellent 4-under par 66 today which included: 1 Eagle, 3 Birdies and only 1 bogey blemish. He fired a 2-under 34 on the front-9 and followed it up with 2-under par 36 on the back-9. Wes finished the Championship at 9-under par with an outstanding two-day total of 131.
In sole possession of 2nd is: Eric Locke (Priddis Greens G&CC) who carded an exceptional 5-under par 65 today to match the Course Record that was shot yesterday. Eric had an excellent 6 Birdies on the card today with only 1 bogey blemish to finish the Championship at 5-under par with a two-day total of 135.
In sole possession of 3rd is: Albert Pistorius (Country Hills GC) who carded an excellent 4-under par 66 today with 7 Birdies on the card and 3 bogey blemishes. Albert finished the tournament at 4-under par and finished with a two-day total 136.
Rounding out our Top-5, in a two-way tie for 4th is: Mitchell Fox (Speargrass GC) and Dillion Batsel (Desert Blume GC) who both finished the tournament with a 2-day total of 3-under par. Mitchell fired a scorching 65 today to tie the Course Record set yesterday and today.
Congratulations to our Day 2 Skin Winner: Matthew Mah (Cardiff G&CC) with a Birdie on #2 & Mitchell Fox (Speargrass GC) with an Eagle on #4.
Special thanks to our Sponsor: Cobra Puma Golf for their continued support. Special thank you to our host venue of The Derrick G&WC for putting on an excellent event.